Cryptic Star Wars message appears over SDCC [UPDATE]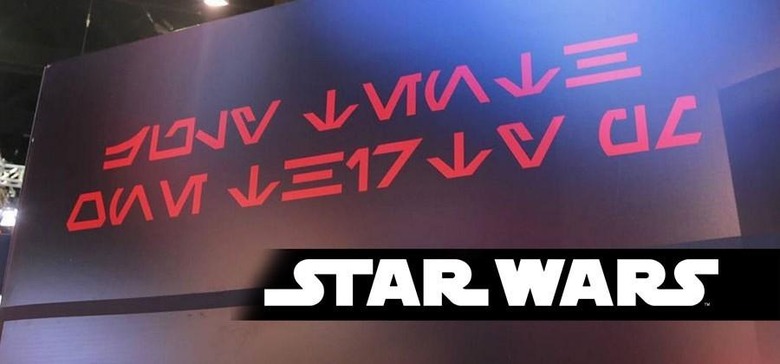 This morning fans found a cryptic Star Wars message written in Galactic Basic Standard font Aurebesh at SDCC. Comic-con (SDCC) is known for releasing big news in all sectors, and as it was the very first place where the original "The Star Wars" film was revealed, we wouldn't put it past Lucasfilm and Disney to bring the big guns to the last SDCC before the new trilogy begins with Star Wars: The Force Awakens. As it happens, we've go the translation for this bit of script handy.
The image you're seeing here was captured by The SWU, aka Star Wars Underworld. This photo was captured in the Star Wars arena, near the Hasbro display with all-new action figures and new displays aplenty. The text, as it translates directly, reads as follows:
"July Tenth One Thirty PM"
That's tomorrow – before the Star Wars: The Force Awakens panel is set to begin. Could it be a clock time for a new trailer?
Not likely. It's been confirmed by more than one source that there'd be no big video element to this year's SDCC appearance by Lucasfilm.
But what about Hasbro? They currently have a Star Wars Black Series Poll taking place via StarWars.com where users are invited to vote on the next action figure to be designed and released by the company.
They suggest the poll will be open until the start of the Star Wars The Force Awakens panel – that'd be until 5:30 PM Pacific Time, several hours after this message indicates.
What do you think this message could be all about?
Drop in on our Star Wars tag portal for more clues and stay tuned!
UPDATE: Solved! This timeframe matches up with the Hasbro reveal of a number of new Black Series action figures – before the "voted on" figure which will be revealed before the end of SDCC.UPDATE 2: VIA the folks at @BravoINTEL we now have photos of the Star Wars: The Force Awakens display unveiled this afternoon.
Now we have NEW questions – like who this person is in all black? Just a TIE pilot, or someone else?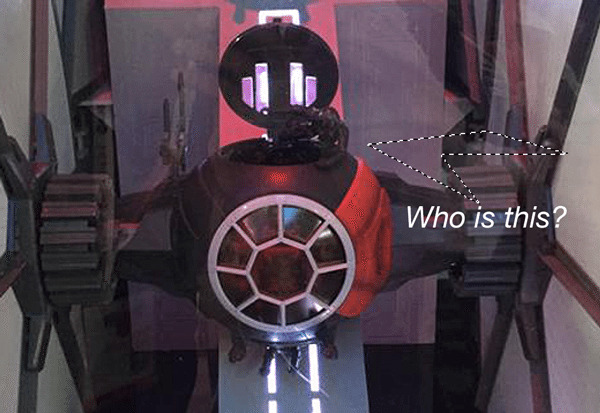 UPDATE 3: Just a pilot! No need to panic! Thanks Pete!