CrunchPad $200 Web Tablet Gets Second Prototype [Video]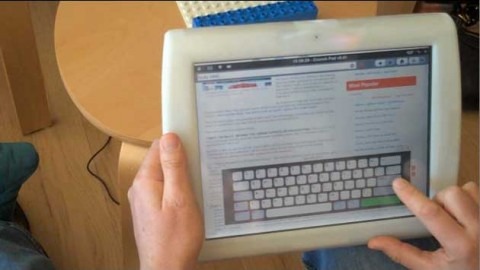 It's been a long time since we last heard about TechCrunch's $200 Web Tablet project – July 2008, in fact – but the team has not been sitting idle.  They've now got a prototype put together, complete with a 12-inch 4:3 aspect touchscreen, VIA Nano processor, 1GB of RAM and 4GB of flash memory.  It also has WiFi, a camera, an accelerometer for screen orientation changes and a four-cell battery, and came in at just over $200.  They're now trying to decide whether to spin off the project as a real company, making real products, or not.
Video demos and more photos after the cut
The project is now being run by Louis Monier (previously of AltaVista, eBay, Google and Cuil), who has been donating his spare time to it.  Prototype B of the CrunchPad (as it's been nicknamed) is capable of all the web-browsing you might want, using a full install of Ubuntu Linux (due to be cut down) with a custom Webkit browser and virtual keyboard.  Currently it measures 12.5 x 9.7 x 1.3 inches, though that's also expected to slim down, and eventually ports would just include power, headset and a single USB.
Frankly, the whole team deserves huge credit to have got this far, and I hope they follow-through with taking it to production.  Even if the final price slips from the target $200 to $299, as Michael Arrington suggests it might, I can't imagine buyers being in short supply.  They'd certainly find a few here at SlashGear.