Crowd-funded telescope looks to take selfies into space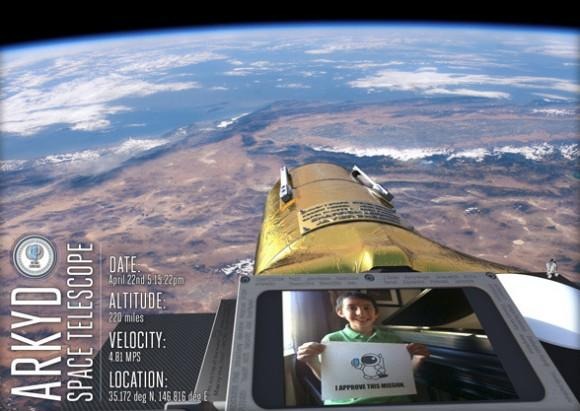 One space company is looking to change the way space exploration works. Planetary Resources, the company that also wants to mine asteroids, has come up with the idea of putting a telescope into space and allowing folks like you and I to control it in a way. You'll be able to send a picture of yourself into space, as well as take photos of planetary objects for yourself.
The telescope is called ARKYD, and it's looking to become the world's first crowd-funded space telescope. The company is looking to raise $1 million by essentially selling the opportunity to have people send a picture of their own up into space, as well as the opportunity to control the telescope and take photos of planetary bodies of their choice.
The ARKYD's primary goal is to mine asteroids, but the company is planning to launch multiple ARKYDs into space over time to accomplish this. The first one that will head to space is the ARKYD 100, which is the one that will be in the hands of Kickstarter backers. We've seen this telescope before, which was shown off as a prototype last year.
For $25, you can take a "space selfie," which includes sending a picture of yourself up into space. The picture will be shown on a LCD screen mounted on the telescope and a camera arm will then take a photo of the screen with the Earth in the background. It sounds a little cheesy, but we know space nerds will gobble it up like tiramisu.
Higher pledges will allow for the ability to use the ARKYD to take a picture of anything you want in space using the telescope's main camera module, in space or on Earth. Essentially, the more money you pay, the more you can do with the telescope, including the opportunity to spend more time taking photos and such.
We're not sure if the $1 million goal can be reached, but we're optimistic. Already there are over 1,000 backers who have pledged over $125,000 at the time of this writing, and there's still 32 days left to go. Planetary Resources says that they'll be launching the telescope whether they reach the goal or not, but the Kickstarter campaign simply gives them the chance to let regular folks get in on the action.