Cricket Wireless adds cheapish CAPTR camera phone to line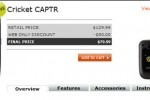 For many people the only type of mobile phone they want is one that is cheap and makes phone calls. All other features are secondary. Cricket wireless has added a new and cheap handset to its line for the user who wants a basic device that can shoot images called the CAPTR.
The device has a zoom-enabled VGA camera, features a flip form factor, and is one of the more affordable on the market. Other features of the device include Bluetooth, voice dialing, text, and picture messaging.
The device also has an internal and external color display and is mobile web capable. The handset supports SMS, text, and MMS messaging. The internal battery is a 920mAh unit good for 300 minutes of talk time and 250 hours on standby. Oddly, for a device touted for its low cost design, the handset isn't that cheap at $79.99 after a $50 instant discount.