Cricket Muve Music Allows for Unlimited Song Downloads for $55 Per Month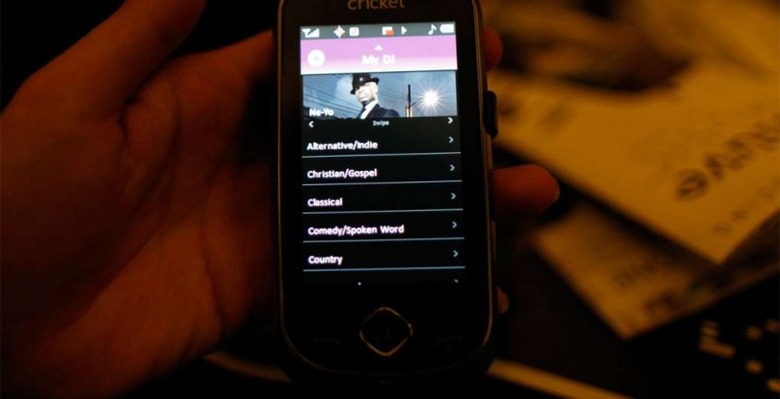 We've heard about Cricket's Muve Music in the past, and the idea is the same as other subscription-based music services before: you pay a certain amount per month, and you get an unlimited amount of songs to download. Of course, with that kind of deal, there's always some form of protection involved, and with this new service from Cricket, it's no different. However, unlike the other services, even the ones that are tied to a phone, it's an extra charge per month. Not with Cricket's Muve Music.
The idea behind the service is to provide the unlimited music downloads, all the while charging the owner for the wireless monthly charge, and nothing more. The result? $55 per month will get you unlimited talk, text, picture messages, data back-up, and unlimited web. Basically, unlimited everything that most people use on a day-to-day basis, but with an unlimited amount of music to download. Check out the full press release for more information.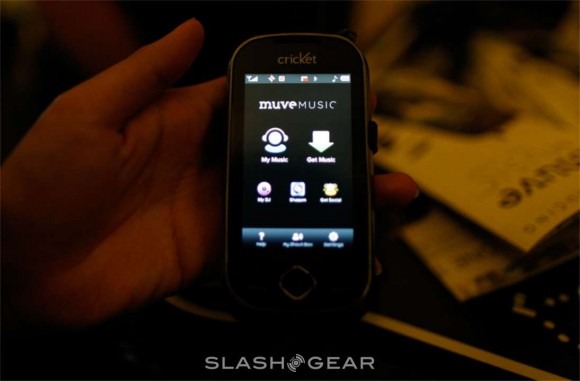 Press Release
Cricket Debuts Muve Music Service at 2011 International CES

~ New Wireless Rate Plan with Unlimited Music Downloads Exclusively Designed for Mobile Phone ~

SAN DIEGO – January 3, 2011 – Cricket Communications Inc., a leading provider of innovative and value-driven wireless services and a wholly owned subsidiary of Leap Wireless International, Inc. (NASDAQ:LEAP), today announced it will debut Muve Music, its new wireless rate plan with unlimited music and the new Samsung SuedeTM (SCH-r710) mobile phone at the 2011 International Consumer Electronics Show.

For the first time publicly people will be able to see and experience Muve Music from Cricket – first announced on December 20, 2010 – a new wireless rate plan with unlimited music which has been designed exclusively for the mobile phone and does not require the use of a computer. Muve Music, available on the Samsung Suede, will be on display at CES in a variety of places including:

CES Unveiled on Tuesday, Jan. 4 from 4 – 7 p.m. at Venetian Ballroom, The Venetian

Pepcom Digital Experience on Wednesday, Jan. 5 from 7 – 10 p.m. at Caesar's Palace in the Octavius Ballroom.

Muve Music Lounge in the Cricket Buzz Suite from Thursday, Jan. 6 – Sunday, Jan. 9 in S210, South Hall, LVCC – regular show hours

Along the strip and around Las Vegas including nearby Cricket stores

Entertainment Matters

Cricket, along with Variety, is one of the main sponsors of Entertainment Matters, the new International CES® program developed to help entertainment professionals navigate the largest, most influential technology show in the world, through exhibits, conference programs and events critical to the Hollywood community.

Media Contacts: Cricket Communications, Inc. Greg Lund, Media Relations 858-882-9105 glund@cricketcommunications.com

Amy Wakeham, Investor Relations 858-882-9876 awakeham@leapwireless.com

Cricket Cricket Debuts Muve Music Service at 2011 International CES

Cricket and its Muve Music partners Universal Music Group, Sony Music Entertainment, Warner Music Group, and Samsung will host a session "Muve Music From Cricket – The Business Model" on Friday, Jan. 7 at 4:00 p.m. in Room N250 of the Las Vegas Convention Center, located on the main concourse between the North and Central exhibit halls.

The Muve Music Experience

For just $55 per month, Muve Music customers will get the following features on Cricket's nationwide 3G network:

Unlimited nationwide calling Unlimited nationwide text, picture & video messaging Unlimited global text messaging Unlimited 3G mobile Web Unlimited email Unlimited data back up Unlimited video

And for the first time anywhere in the U.S.

Unlimited full track downloads Unlimited ringtones Unlimited ringback tones

With Cricket's Muve Music rate plan, there are no download fees and no monthly music subscriptions. Customers' data plans will not be impacted by streaming music over the wireless network and customers won't be required to use a credit card to purchase music. Unlimited Muve Music is included in the flat rate monthly wireless service plan.

Muve Music has a robust catalog of music content which includes the four major record labels: Universal Music Group, Sony Music Entertainment, Warner Music Group, and EMI Music.

For more information about Muve Music visit www.muvemusic.com and for more information about all of Cricket's products and services, including its dynamic device lineup, please visit www.mycricket.com.

About Cricket

Cricket is the pioneer of simple and affordable unlimited wireless services with no long-term commitments or credit checks required serving more than 5 million customers in 35 states and the District of Columbia. Cricket offers wireless voice and broadband Internet services over the latest technology, high-quality, all-digital 3G CDMA2000 1X and 1xEV-DO wireless network. Cricket's nationwide wireless voice service plans include unlimited anytime minutes, unlimited U.S. long distance, unlimited

Cricket Cricket Debuts Muve Music Service at 2011 International CES

text and picture messaging, unlimited text to Mexico, unlimited Mobile Web, unlimited directory assistance, as well as a variety of calling features and feature-rich mobile applications such as popular games, ringtones and wallpapers. Cricket Broadband provides unlimited Internet access anywhere within Cricket's coverage areas at speeds comparable to DSL. For more information on Cricket, visit www.mycricket.com. Cricket is offered by Leap Wireless International, Inc., headquartered in San Diego, Calif. For more information on Leap, visit www.leapwireless.com.