Creative launches new Sound Blaster sound cards for PCs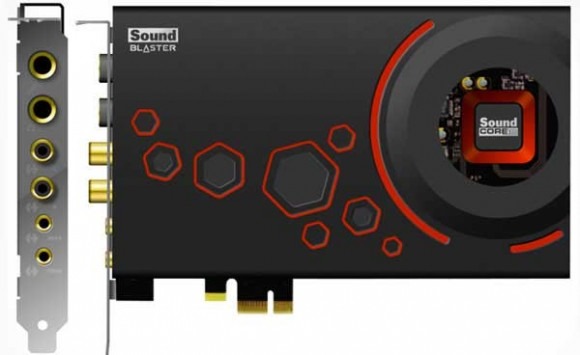 We can thank GamesCon going on in Germany this week for all the new gaming hardware and peripherals that have surfaced today. At the show, Creative has unveiled its latest line of Sound Blaster soundcards for computer users. It has been a long time since we talked about a Sound Blaster sound card. The Sound Blaster used to be common in gaming PCs, but many people have started using HD integrated audio support on the mainboard rather than a add-on card for audio.
Creative has unveiled three new Sound Blaster varieties including the ZxR, Zx, and the Z. The ZxR is a top-of-the-line with Creative claiming it's the world's best sounding sound card. The card retails for $249.99 and uses studio-grade components inside including digital to analog converters delivering 127 dB signal-to-noise ratio. The sound card also has an 80 mW into 600-ohm headphone amplifier and 192 kHz pass through.
All those features are targeted at the best audio quality available. The car also has a small daughterboard with an optical output and a lot more. The next down is the Sound Blaster Zx retailing for $149.99. It offers the same exact hardware as the ZxR minus the DBpro daughterboard. This card also has an attention grabbing color scheme with a red EMI shielding and glowing LED lights.
On the low end of the spectrum is the Sound Blaster Z with a retail price of $99.99. It has the same hardware as the Zx sound card minus the external Audio Control Module. The sound card is aimed at gamers looking for an all-around gaming entertainment solution on a budget. It features 120dB SNR and supports 192kHz direct pass-through to analog out as well as a 600-ohm headphone amplifier, glowing LED lighting, and more. All of these cards use PCI Express slots inside your PC.
[via Engadget]