Creative Fatal1ty X-Fi USB Headset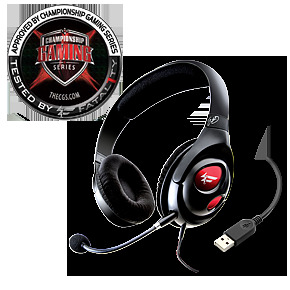 I remember back in the day when the name Fatal1ty was just first being heard around the internets. This was some kid that was making a real name for himself in the professional gaming world by dominating in Quake III Arena, and going on to win (or place very well) in dozens of professional tournaments. Nowadays you don't hear much about his victories, but you do see gaming products with is stamp of approval on them. The latest such products is the Creative Fatal1ty X-Fi USB Headest.
First, this headset is not going to improve your fragging skills, I don't care who has their name stamped on it. However, I can bet that this guy has spent more time gaming with a headset on than most of us, so he probably knows what he's talking about.
So what makes these headphones so great? The main perk is the positional audio which promises to let you know exactly where the enemy is, solely from the direction of the sound they are making. Of course the main question when I look for a headset is just how comfortable it is over long periods of gaming. The ear cups are padded for comfort, so hopefully there won't be any issues there. You can pick up a pair for around $80.
[via EverythingUSB]