Creative camera lens packs calendar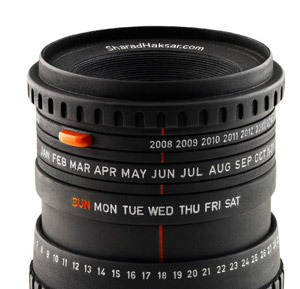 A typical manually focus camera lens shows focus distances and aperture values, but this innovative camera lens designed by Sharad Haksar, has adjustable ring elements to form calendar.
Sculpted from a single aluminum block into a lens shape, the front ring elements are marked with the year, month and date instead of the focus distance, shutter speed and aperture values you would normally expect from a camera lens. Each ring controls an aspect of the calendar to cue dates from 2008 to 2032. We aren't sure if the calendar feature is powered electronically to keep data up to date, but we are pretty sure it doesn't come in F or EF bayonet mount.
The world's first camera lens is Haksar's latest art work, designed commercially for corporate gifts. According to a reader here, it's available to custom order now from his web site for $2000 USD.
[via coloribus]