CrazyFlie Quadrocopter Uses A Playstation Controller For Control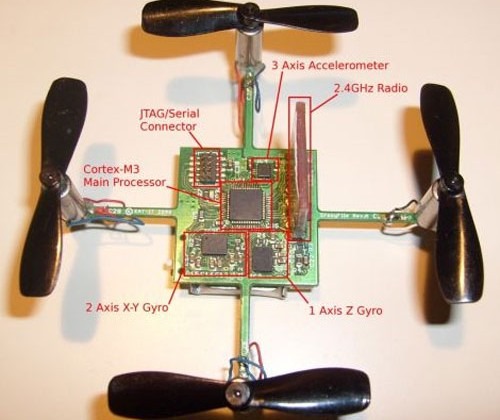 I am a sucker for anything remote controlled. I particularly like remote control flying whatnots. I really liked the looks and cool factor of the AR.Drone, but that quadrocopter was just more than I could bring myself to spend on a toy. Three hackers from the Daedalus Project banded together to build their own tiny quadrocopter that is very small and looks pretty darn cool. The little copter is called the CrazyFlie and is small enough to sit in the palm of your hand.
The copter weighs only 20 grams and has a span of eight centimeters. The control system of the CrazyFlie is almost as cool as the copter design itself. The trio used a Bluetooth Playstation controller to fly the copter around. That is a great idea for a control system since we are all so familiar with Playstation controllers and how they feel today. It would be much easier to pick up controls on the PS controller than on a commercial radio controller for RC gear.
The copter has a Coretex-M3 CPU onboard that uses its processing power to keep the copter stable by monitoring the onboard gyroscopes and accelerometers. The processor tweaks the speed of the rotors to stabilize flight. The hackers even offer up the build process if you want to make your own. I want one of these and if someone built them to sell, I bet the things would sell.
[via Engadget]