Cowon's S9 Curve PMP was meant to have launched in Europe by the beginning of last month, but the slinky media player is still yet to arrive.  However the latest news is pointing to "problems in production" delaying the Korean release to December 2008, with availability outside of there pushed back to 2009.  Cowon themselves have issued a new release regarding the Korean launch, where the 3.3-inch AMOLED display PMP will be priced at 219,000 won ($150) for the 4GB, 259,000 won ($178) for the 8GB, and 309,000 won ($212) for the 16GB.
More details, including GUI screenshots, after the cut
Meanwhile, if you've noticed that the majority of S9 shots we've seen so far have shown the display disappointingly blank, you may be excited to hear that the first GUI screenshots have emerged [via CNET Asia].  While some have accused it of being slightly too similar to that of the iPod touch, it's still got a little of its own Cowon style.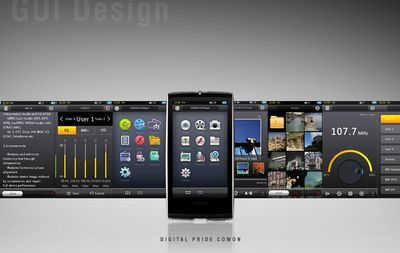 The S9 Curve has an AMOLED capacitive touchscreen display, A2DP Bluetooth v2.0 for cordless stereo headphones, up to 40hrs audio playback or 8hrs video playback from the full charge, and Cowon's usual broad array of supported standards.  The Korean version has an integrated DMB TV tuner, though this will not make it to other markets.