Cowon O2 PMP with T-DMB & touchscreen: pricing announced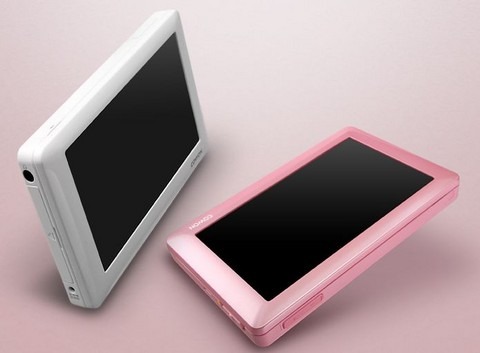 Cowon have announced European pricing for their O2 media player, announced at IFA 2008 and set to launch in November 2008.  The O2 has a 4.3-inch 480 x 272 touchscreen, T-DMB digital TV tuner and 8, 16 or 32GB of internal storage that can be augmented via an SD/SDHC slot.  Prices start from €289.99 ($400).
Three different colors are on offer - white, black and rose – and the PMP measures 119.5 x 73.4 x 18mm and weighs 205g. Prices are as follows:
O2 iAudio 8GB Pink – €289.99 ($400)
O2 iAudio 8GB White – €289.99 ($400)
O2 iAudio 16GB Black – €309.99 ($428)
O2 iAudio 16GB White – €309.99 ($428)
O2 iAudio 32GB White – €365.99 ($505)
As well as the TV tuner the O2 also has a dictionary and voice recording.  Battery life is estimated at 18hrs audio or 8hrs video.  Format compatibility is something that Cowon has been known for, but the O2 really outdoes itself: DivX, XviD, MPEG-4 SP/ASP, WMV 9/8/7, M-JPEG, MPEG1, MPEG-1 Layer 1/2/3, WMA, AAC3, AAC, FLAC, OGG Vorvis, OGG FLAC, Apple Lossless, True Audio, Monkey Audio, MusePack, WavPack, G.726 and PCM. 
[via Generation MP3]