Cowon L3 touchscreen PMP/PND gets official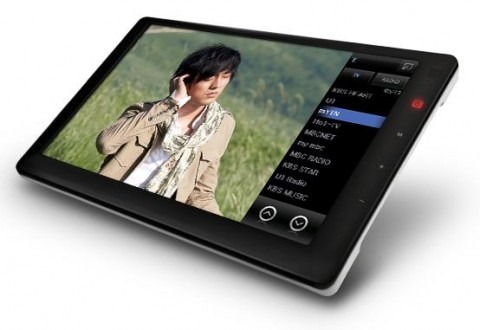 Cowon have officially announced the L3 combination PMP and GPS navigator, with a 7-inch touchscreen display, dual-core processor (each core running at 480MHz) and DMB digital TV.  First spotted back in August last year, the L3's sizable display runs at 800 x 480 WVGA with 128MB of SDRAM, 4GB of storage and an SD card. 
The GPS functionality includes not only basic navigation but Eco Drive, which guides you on the most fuel-efficient route and speed, while there's an FM transmitter, FM radio and line-out connection to hook up to your car stereo.  AVI, ASF, WMV video, and MP3, WMA, ASF, WAV, and OGG audio files are all supported, and the whole thing measures just 180.4 x 112.2 x 18.3mm and tips the scales at a mere 318g.
This is one of those times that you wish Cowon had slapped in a web browser and WiFi, and made the L3 into a super-slinky net-surfing tablet.  Until they see the error of their ways (oh, and announce availability outside of Korea, which is likely to be the L3's only stomping ground) we'll just have to make do with the pictures.  I'm particularly fond of the idea of an "Extreme Navigation" interface.
[via Akihabara]