Cowon A3 for sale Nov. 14th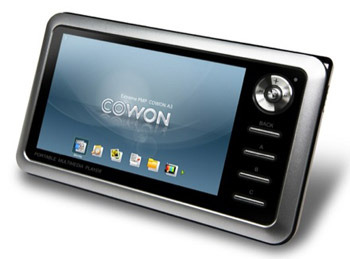 There are some pretty amazing features that come with this PMP too. Lets start with the screen, its 4-inches diagonal, 16 million colors, and has a res of 800x480, that's as good as my TV.
Then there is the FM radio with built in recorder, a USB host, MPEG-4 video recorder, and up to 1280x720 HD output. Codec support includes FLAC, DivX, and OGG, and I assume there is a sufficiently longer list of other codecs supported as that list doesn't have any picture formats and no MP3 support in the list either.
They are going to be sold in 30 and 60 gigabyte capacities for about $387 and $465 respectively. So, go get one and tell us what you think.
Cowon A3 to debut on November 14 [via pmptoday]