Cowon 3D PMP Due In December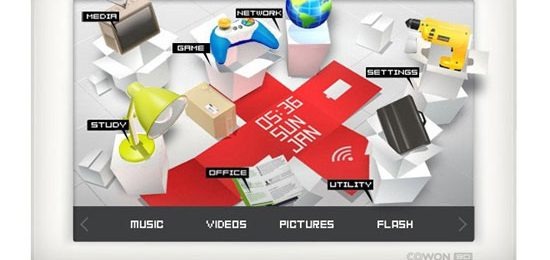 Cowon knows how to make Personal Media Players. They've got a myriad of the devices available now, with more coming down the pipe, and now it looks like one more is set to join the fray just in time to hit Christmas wish-list. Though, their newest effort isn't just another PMP. This new device, aptly called the Cowon 3D, features glasses-free 3D technology, and still manages to pack in all of the other features people expect in their PMPs.
Of course, the company is saying that the Cowon 3D is the first 3D PMP available on the market. Much like the Nintendo 3DS, Cowon's PMP is able to display 3D images to the user without the need for glasses. The Cowon 3D will also let you fully enjoy 1080p HD video, as well as through the output so you can enjoy it on your HDTV. You'll be able to use the Cowon 3D to browse the Internet, look at your photos and videos, as well as listen to music.
The device features a 4.3-inch touchscreen display, with a resolution of 800 x 480, and it will come in sizes of 32GB or 64GB. For the 32GB, you'll have to pay $430, and $510 for the 64GB version. Both of them are due to hit retail shelves some time in December. The big question, though, is whether or not the device is meant to convert standard 2D images into 3D ones, or if the device's User Interface and 3D-based movies will be the only thing users experience in 3D.
[via Wired]