Cowboy Stadium's biggest screens in the world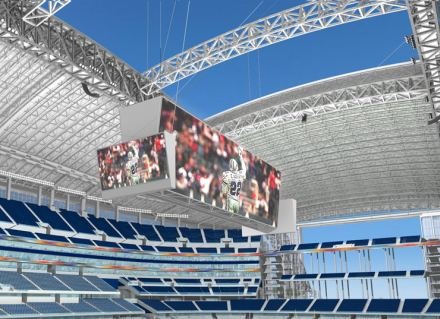 Living in Texas, I can tell you that everything is indeed bigger in Texas. And knowing this, we can only expect the new Cowboy Stadium to be of monstrous proportions. From the plans we can glean that it may just be the world's biggest on several counts, including world's largest domed stadium, world's largest column-free room, and home to the world's two biggest video screens.
As if having the two largest screens in the world aren't enough, the stadium will actually house a four-display center-hung setup with two additional smaller displays, one on each endzone, still measuring a ginormous 48 feet by 27 feet. The two record-breaking monster screens facing the sidelines will measure an amazing 180 feet by 50 feet. The stadium is expected to be completed by 2009.
Cowboy Stadium getting biggest screens in the world [Via: Sci Fi Tech]