CoWatch wants to put Amazon's Alexa on your wrist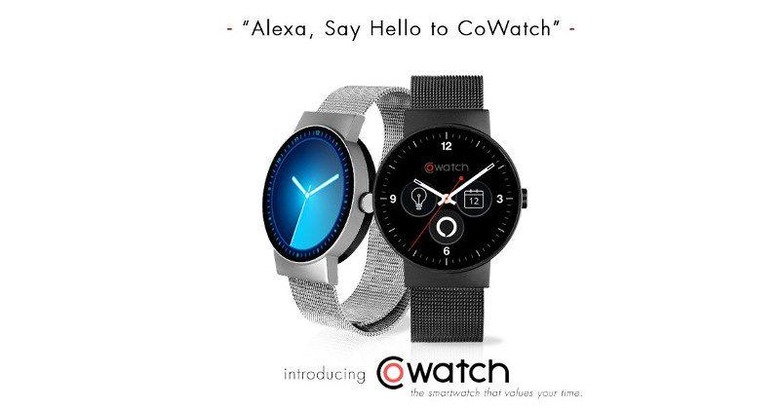 Well, it finally happened. Given the interest poured over both smartwatches as well as voice-controlled virtual assistants, someone was bound to put the two together for Amazon very own Alexa. And now that's happening, or at least will happen if the CoWatch Indiegogo crowdfunding campaign succeeds. And actually goes into production. While running its own "Chronologics OS", the highlight of this smartwatch is definitely its integration with Amazon Echo, which, in turn, opens up the possibilities of connecting with and controlling other devices, appliances, and, of course, the smartwatch itself.
Compared to the big voice control assistants, Google Now, Siri, and Cortana, Amazon Echo is probably the least known. So it almost seems strange that the makers of CoWatch would go with Alexa. Actually, it's not that surprising since, ironically, Alexa is the only one that doesn't come with an OS of its own. Google Now, at least on a smartwatch, requires Android Wear. You can't use Siri outside of Apple Watches. And let's not even start with Cortana and Windows. So yeah, short of reinventing the wheel, Alexa is probably the best choice.
Not that Alexa is a bad choice anyway. A;though it started slow, it has grown by leaps and bounds recently and has started to embrace a bigger ecosystem outside of the first Amazon Echo speaker. That openness is allowing CoWatch to dream up of a smartwatch that uses its own smartwatch platform while still taking advantage of the integrations offered by a pre-existing and big platform like Alexa. That means being able to control smart home appliances, make food orders, ask about the weather, and even reply to messages.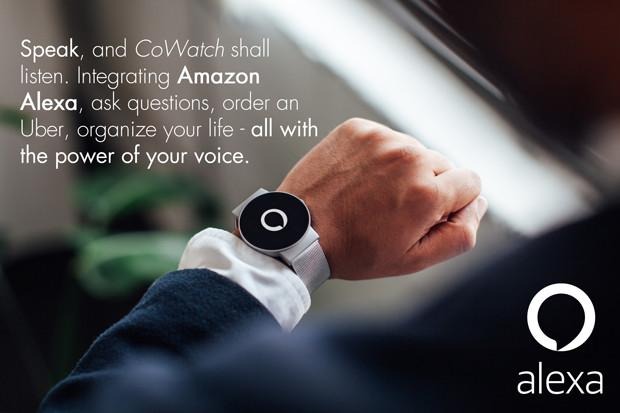 The smartwatch itself is quite interesting on its own. Like many of its kind, it tries to appeal with a "classic" design, which practically means round metal bodies premium looking straps, in this case metal as well. The specs, however, might be hard to find in most smartwatches. The dual-core processor, for example, is split between 1.2 GHz and 300 MHz cores. There's 1 GB of RAM and 8 GB of storage, definitely the highest you'll see in smartwatches in the market. There's some amount of water resistance, not water proofing, and the battery is advertised to last 32 hours even with an Always On display. The brand new Chronologics OS might raise a few eyebrows, but as long as it doesn't get in the way of using Alexa, it might as well be invisible.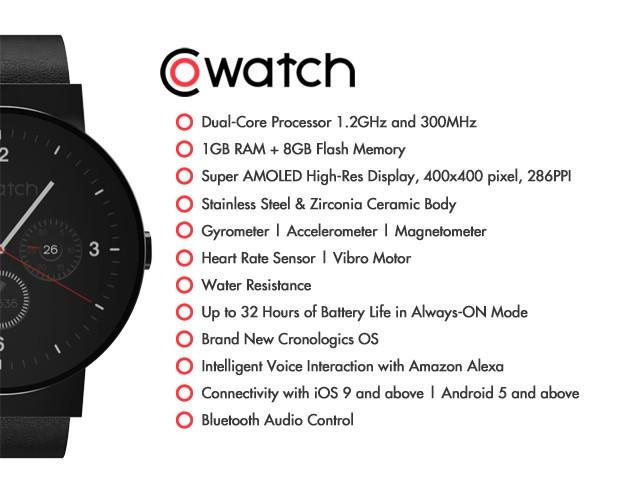 As interesting as the idea might, execution will be a totally different story. The CoWatch is no finished product ready to burst in the market. It's still on Indiegogo looking to raise $80,000, which is already 82% met as of this writing. And with a whole month left even! Funding, of course, is still no assurance of a deliverable device and we can only hope that backers will indeed receive theirs as promised in June.
SOURCE: Indiegogo