Could Palm revive the Foleo as another Eee rival?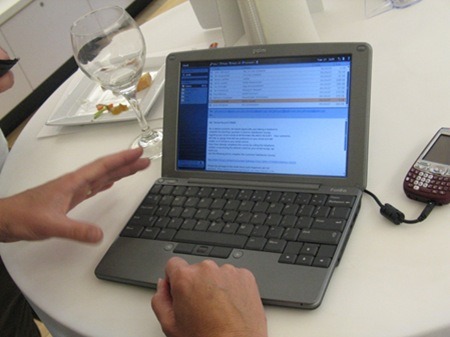 When Palm sent out invitations for users to trial an "innovative new product" earlier on this week, the criteria that participants must be heavy smartphone and email users, have a WiFi router and an account with Sprint led many to presume that it referred to the Treo 800w.  That handset – long in the making, and believed to be hitting Sprint in July - is expected to have the usual full thumbboard as well as WiFi, EV-DO Rev.A and Windows Mobile 6, and it seems reasonable that Palm would be beta testing it around now.  However, just as we were all about to file the rumor away, another possibility was suggested: could Palm be reviving the Foleo?
Intended as a companion device for Palm smartphones, the Foleo project was cancelled in September last year after serious and ongoing doubts that there was a market for a web and messaging-centric ultraportable.  Critics pointed at its inability to run mainstream apps and its relatively high price ($599), and Palm decided to take their money and invest it in their next-gen mobile OS instead.  Subsequently, ASUS have swept the board with their Eee PC – a low-power device ideal for web browsing and messaging – and kick-started a new niche of small, budget notebooks usually running cut-down OSes.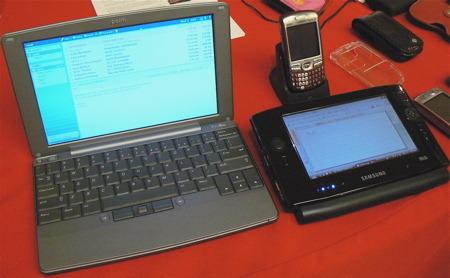 Was the Foleo, ironically, ahead of its time?  Looking at the price, it's hard to see how it would fit – in its state when Palm canned the project, reliant on a connected smartphone - into the current ecosystem.  Yet with some reworking it could undoubtedly join the budget-ultraportable throng: WiFi for connectivity rather than just a Palm handset, standalone apps and a MacBook Air-style design would surely find buyers.
We won't know anything for sure until the product launches (or, more likely, one of the beta testers "accidentally" lets something slip), but considering Palm's dismal financial performance last quarter they could really do with a turn under that UMPC halo.