Cosmonauts on ISS take a spacewalk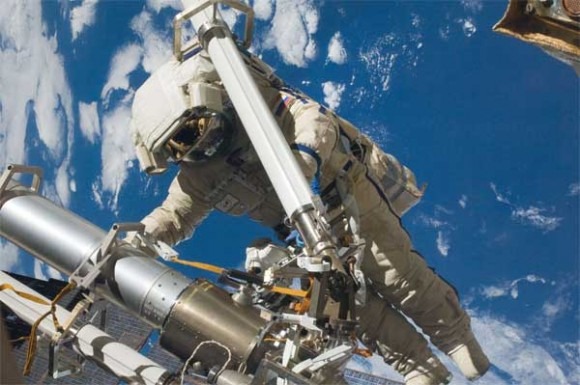 I think one of the coolest things an astronaut or cosmonaut can ever do is take a spacewalk. Being out in space floating above the Earth would have to be one of the most amazing experiences any human could have. Yesterday a pair of Russian cosmonauts living on the international space station took a spacewalk to upgrade some components on the space station.
The cosmonauts who participated on the spacewalk were Gennady Padalka and Yuri Malenchenko. The pair were expected to be outside the ISS for about 6 1/2 hours to complete maintenance and repairs on the exterior of the space station. The Russian cosmonauts ventured outside the ISS after exiting the Pirs module wearing Russian Orlan spacesuits.
The spacewalk was the first for the Expedition 32 mission. Another spacewalk for the mission will be conducted by two other astronauts for NASA on August 30. Padalka and Malenchenko focused on installing new micrometeoroid debris shields over certain parts of the Russian Zvezda service module. The cosmonauts also moved a hand-operated crane called the Strela-2 from the Pirs docking module to the Zarya control module.
Once the primary mission goals for the spacewalk were completed, the cosmonauts were going to try to retrieve a pair of science experiments from the outside of space station. The experiments included panels that were being used to determine how different materials reacted in the vacuum of space. If the cosmonauts were able to find themselves with even more time, they were planning to launch a small spherical satellite from the ISS.
[via Space.com]