Cortana's new Windows 10 features at BUILD 2015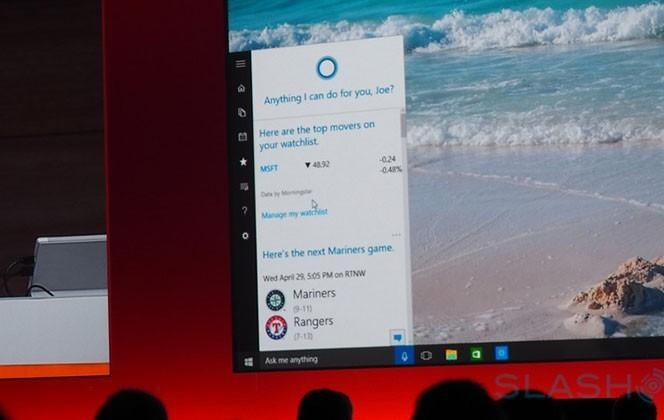 This week Microsoft is bringing light to a number of new features for Cortana in Windows 10. We're at BUILD 2015 and hearing all about what this new system will deliver to desktop systems, tablets, and phones as well. "Our goal is to make Windows 10 the most attractive development platform ever," said Terry Myerson, Microsoft's Windows Chief, going on to suggest that developers can "integrate Cortana into [their] apps ... add natural user interactions to your apps like pen or speech, and turn your apps into holograms."
First, you're going to see Windows 10's Spotlight letting you know what you can do with Cortana. This feature can be turned off – as any indicator bit can – but it'll be useful to those just getting used to this interface.
There's a new Cortana user interface, this one starting with "Anything I can do for you, User?" at the top, followed by a menu including data you've previously requested you get updates on.
"We want Cortana to represent a single way for users on Windows to interact with all types of capabilities," said Myerson.
Cortana can now accept commands for a variety of apps, sending specific messages from specific apps. In short – Cortana is about to get a lot more deeply integrated with the apps you use daily.
We'll find out more this week as we get up close and personal with Windows 10 at BUILD 2015 – stay tuned!