Cortana Syncs Notifications Between Windows 10 And Android Devices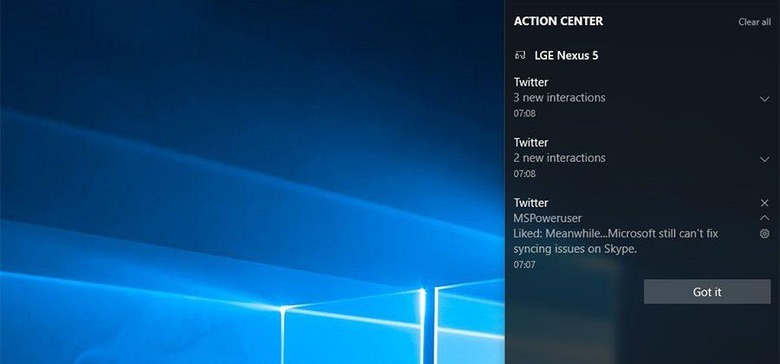 Android smartphone users like to get notifications from their smartphone in multiple places so they can always be aware of emails, texts, and other important information. Microsoft has announced that Cortana can now synchronize notifications between your Android smartphone and your Windows 10 PC. Notifications can also be synced between PCs and Windows 10 mobile smartphones.
To enable the synchronizing of notification between the two platforms, you need to install Cortana on Android. One caveat is that the feature isn't available on the standard build 1511 for Windows 10, you have to be running Windows 10 14342 to try the feature along with the latest version of Cortana on the Android device.
Notification syncing for specific apps is allowed so you can eliminate notifications from apps you really don't care about. Another bit of the puzzle that users will need to be able to sync notifications is a Microsoft Account connected to the Windows 10 PC and Cortana on Android. Once you have all the pieces ready to go, you have to enable the feature and configure it in Cortana for Android settings inside the app.
The notification sharing reportedly works very smoothly with notifications showing up on the Windows PC only a few seconds after showing up on the Android device. One downside is that there are no action buttons on the notifications on the Windows PC. This means you can click the notification and respond to text or email from the Windows PC, you have to go back to the Android device to reply. Even if you have to dig your phone out of a purse or pocket to reply, it's still nice to know if the notification is something important that needs a response before you dig the smartphone out.
SOURCE: mspoweruser