Corsair's DHX Technology Has Netted Them Some High Memory Speeds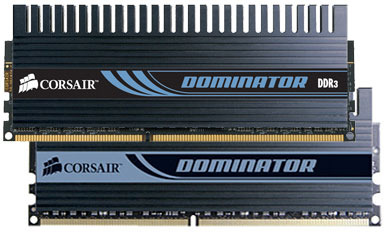 Their new DHX or Dual-Path Heat Xchange technology has allowed them to bump up the speeds of their DDR2 and DDR3 memory. By the end of February they'll be shipping two 4GB DDR2 kits with the technology, and later this year, 4 new DDR3 kits.
The 2 DDR2 kits each have 2 sticks of 2GB each. The first kit is running at 1066MHz or PC2-8500 and the second is running at 1142MHz or PC2-9136.
The DDR3 kits will have 2GB modules running at 2000MHz or PC3-16000. The DDR3 kits will be shipping by the end of this quarter and will be from Corsair's DOMINATOR line. No word on price or availability right now.