Corsair T1 Race Chair is maker's first chair for gamers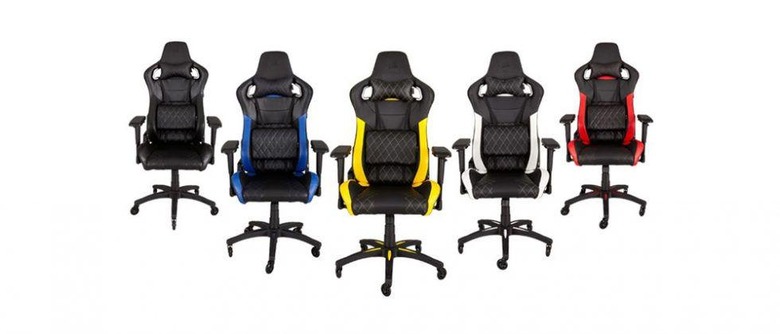 Corsair is getting into the gaming chair market with its first ever chair designed for gamers, the Corsair T1 Race. This model features a sporty design inspired by the type of seats you'll find in racing vehicles, as well as elements you'd expect from a desk chair including arm rests and seat padding. Users can expect to find things like PU leather, multiple color accents, nylon caster wheels, and more.
The T1 Race chair is, according to Corsair, 'sculpted' to look like a race seat but with components necessary for those who spent a lot of time gaming. This includes both lumbar and neck support, as well as PU leather pillows and an adjustable height. In addition to being on a swivel, the T1 Race gaming seat can be titled back 10-degrees when moving around, but can also be reclined manually up to a full flat 180-degrees.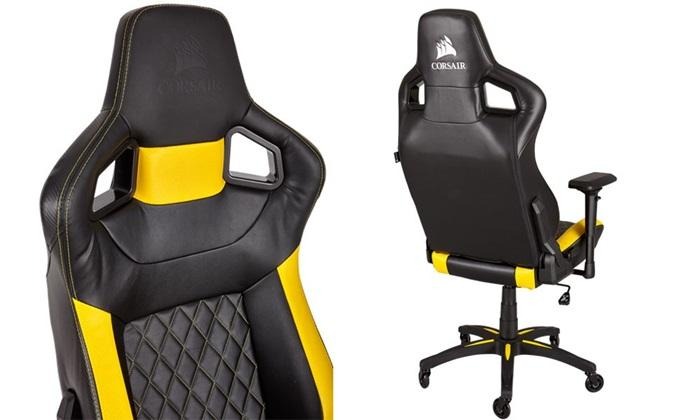 The chair, as shown in the images, features a Corsair logo alongside stitching that matches the color of the seat's accents. Color options are comprised of black, blue, red, white, and yellow. While the Corsair logo on the back of the chair is embroidered, the one on the inside portion of the headrest is embossed to avoid disrupting comfort.
The armrests, meanwhile, offer '4D-movement,' according to Corsair, which says they can be shifted, swiveled, lowered, and raised higher. This allows for maximum adjustments, something that itself is complemented by the chair's Class 4 gas lift to adjust the actual seat height. The seat includes a two-year warranty and is available now; Corsair says interested buyers need to contact the company's sales reps for the price.
SOURCE: Corsair