Corsair launches new Gaming Series PSUs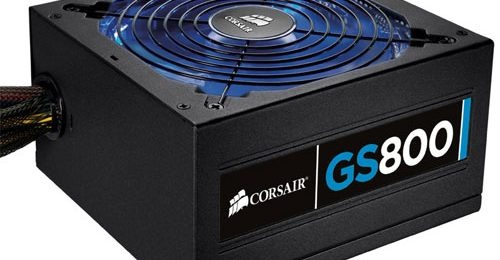 Corsair has a lot of PSUs in its line today with some of them being smaller power supplies for mainstream and low power computing and some of them being big and powerful PSUs aimed at gamers with rigs that slurp down power. Corsair has added a new series of PSUs to its offerings that are called the Gaming Series.
The new GS series include the GS800, GS700, and GS600. All of the PSUs share the same features save the power rating that they have. They all have a large single +12V rail with support for up to 65A. The fan has ball bearings for quiet operation and LEDs for some bling.
Those LEDs can be red, white, or blue and turned off at the user's choice on the GS800 and GS700 while the GS600 gets blue LEDs only. All of the units are 80Plus Silver certified for 80% or better efficiency at normal loads. The PSUs are all normal ATX sized units as well. The power ratings are noted by the name of the models with the GS800 selling for $119.99, the GS700 for $109.99, and the GS600 for $99.99.