Corsair Lapdog Review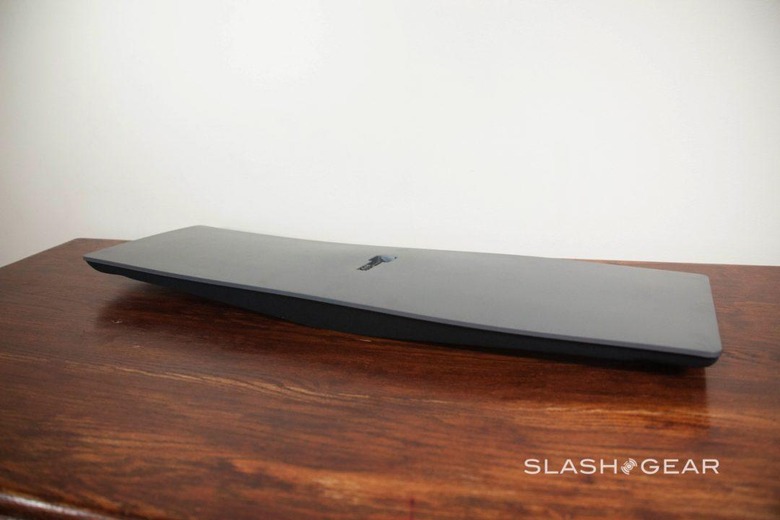 EDITORS' RATING: 7/10
If I'm gaming in the living room on my couch, there's really only one input device that I generally want to use. For years I've struggled with the idea of using a keyboard and mouse, as I'm typically a PC gamer. However, a controller is just easier to accommodate when you aren't sitting in front of the desk. And that's the exact problem that Corsair is trying to solve with their new Lapdog.
The idea of a peripheral that can hold your keyboard and mouse on a couch isn't a new one. The first time I heard of a company trying to do something like this was Phantom, which was a failed console that was announced in around 2003. It promised to stream games via an internet connection (which was an absurd idea in the early 2000's) and was said to come with a special keyboard and mouse that could easily be used on your lap.
While the Phantom console was a no-show, they did eventually release their Lapboard, which didn't impress many people. However, Corsair's approach to the idea is a bit different. Let's take a look.
Overview
The Corsair Lapdog isn't a complete product, by itself, so keep that in mind. You'll also need a compatible keyboard, and any mouse that you'd like to use. Compatible keyboards are Corsair's own K65 and K70. The reason that you need a specific keyboard is that it locks into place, meaning that the Lapdog was specifically designed with these in mind. The mouse just connects to a standard USB port, so virtually any mouse will work.
First Look
When you first take the Lapdog out of the box, it doesn't look nearly as impressive as it does in its final form. It comes in two pieces, one is the main unit, and the other a cushion. The cushion is shaped to contour your legs as you're sitting down, and quickly attaches to the main unit via hidden magnets. All you need to do is place it underneath the Lapdog, and you'll feel it snap into place. The magnets are strong enough to hold it in place, but not enough to make removing the cushion difficult.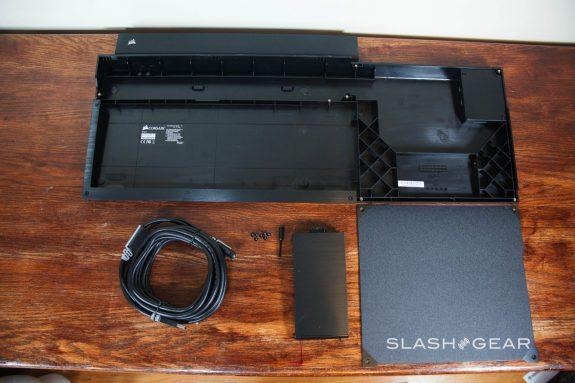 The unit comes with a single 16' cable, which is all that you need to run to your PC. This same cable also sends power to the USB 3.0 hub, so it will need to be plugged into the wall, as well.
The USB 3.0 hub has two ports on the right side of the unit. I chose to use one for my mouse, but if you want both ports free, you can always route the mouse cable internally to accomplish this. The ports offer fast charging, for phones and tablets, and are also perfect for connecting a wired headset.
Assembly
You do need to assemble the Lapdog, but it's hardly anything difficult. You'll just need to remove a few screws to open up the keyboard area. Drop the keyboard in, and route the cables to the internal USB ports.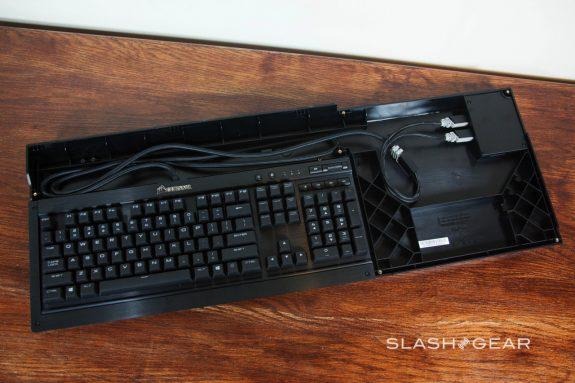 You can also route the mouse's USB cable into the internal ports, but I chose to use one of the external ports, just in case I want to disconnect or swap out the mouse in the future. In all, assembly took maybe 5 minutes or so.
Functionality
Once you have everything setup, you've got a really nice looking keyboard and mouse holder. However, functionality is more important than looks, with a product like this. I've spent quite a few hours playing different games on my couch using the Lapdog, and it really works out really well. The 11" x 11" mousing surface is a perfect balance between being big enough to comfortably use, and being too big to manage on the couch. I tested it using Corsair's own Sabre RGB mouse, which performed flawlessly during my tests.
Corsair sent along their K70 keyboard, which I prefer to use over the K65. This is mainly due to the presence of the volume scrollwheel that's included on the keyboard. The K65 does have volume buttons, so regardless of which you choose, you'll be able to control your volume and media without having to dig in the cushions for the remote.
My only real complaint about the Lapdog is the fact that there is no wrist rest of any kind. This isn't a big deal for the mouse, but it was something that I had to accommodate for with the keyboard. When positioning my fingers over WASD, my wrist would have to hover in the air, where it would normally connect with my desk, or the wrist rest of my keyboard. I found that using a small pillow helped considerably.
I found that using the included padding provided the most long-term comfort, but depending on how I would sit, sometimes I would use the Lapdog without it, as the extra padding would get in the way. Thankfully, it takes only a few seconds to attach or remove it, and set it aside.
Conclusion
The Corsair Lapdog fulfills a need that has been around for quite some time. It makes PC gaming on a couch so much easier than any other solution I've used in the past (including some elaborate setups that I've cobbled together on my own). The Lapdog does come with a fairly hefty price, at $119. Keep in mind that this price doesn't include the necessary keyboard. So unless you already have one that's compatible, you'll want to spring for the $249 bundle which includes your choice of the K65 or K70.
While looks aren't always a huge factor in a purchase, I have to say that the Lapdog looks beautiful sitting in my living room. The black metal design allows it to blend in with my furniture, and doesn't stand out like a sore thumb when it's not in use.
If you're serious about gaming on your big screen, then I highly recommend the Corsair Lapdog.