Corsair LAPDOG brings the mouse and keyboard to your couch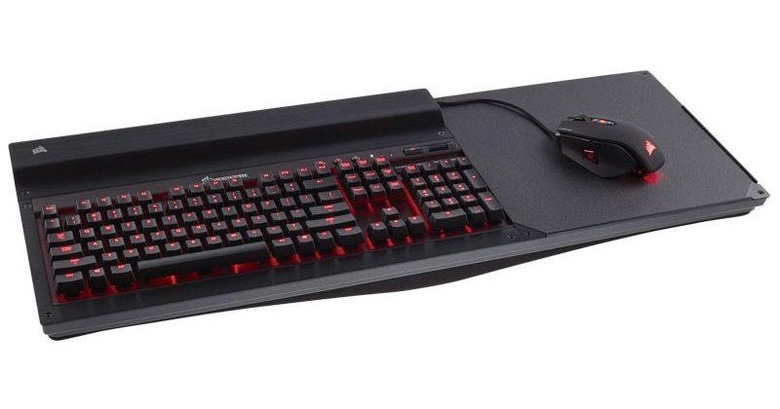 I have a gaming dilemma, one that I think is pretty common among PC gamers. I've got a really nice gaming computer, and a nice monitor, and that's what I tend to use for gaming. But sometimes I want to just chill on my couch and play games on my big screen. I've used a number of different methods to get my keyboard and mouse to work on the couch, but it's never comfortable enough. But now Corsair thinks that they have the answer.
Corsair's new LAPDOG appears to be the answer to PC gaming on the couch. They're calling it a full-size portable gaming control center. Essentially it's a fancy holder for both your keyboard and mouse. It's made from anodized, brushed aluminum, and has a special place to insert a Corsair K70 or K65 keyboard. Once inserted, it will stay firmly in place. Next to that is a 11" x 11" mouse pad.
On the underside of the LAPDOG is a molded memory foam cushion that should ideally keep the whole thing sitting comfortably on your lap. If memory foam isn't your thing, you can always remove the cushion, and place it directly on your legs.
Cable management is another issue with dragging your peripherals to the couch. The LAPDOG tackles this by utilizing a hidden compartment where you can route your cables. They will then plug into one of the four USB 3.0 ports included in the device. You'll still have a pair of free ports to plug in your headset, phone, or anything else that you want. All of that is connected back to a single 16-foot USB cable that you can connect to your PC.
The LAPDOG is on sale now with a retail price of $119. Just remember, you'll need to bring your own keyboard and mouse.
Source: Corsair