Corsair joined SSD bandwagon, 128GB announced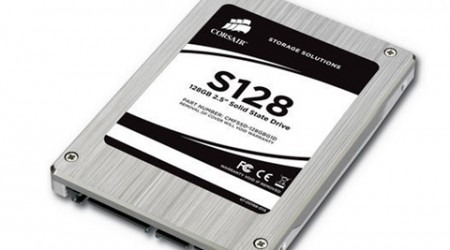 The news first appeared on the UK Online Retailer san.co.uk, revealing a stock of MLC-based SSD 128GB (CMFSSD-128GBG1D) from Corsair, and stories were later published at numerous techie sites citing Corsair will let loose of its first SSD storage device in a very near future. Today, a UK-based CustomPC got words that it's official- The memory maker has joined the SSD bandwagon, targeting mainstream market with the of launch a 128GB S128.
Equipped with a Samsung controller and Samsung NAND flash memory, Corsair claimed its S128 SSD is capable of data transfer rates at the sequential read and write speeds of 90MB/Sec and 70MB/sec respectively. Also, later this year, they will release its 2nd-gen SSDs with increase performance to match competitive levels.
Though Corsair has not made it formal introduction in US market, but the 128GB is already available now at NCIX for $335.
Detailed specifications of the Corsair S128:

Form Factor 2.5'
Unformatted Capacity 128GB
User Addressable Sectors 250,069,680
Bytes per Sector 512
Interface SATA II
Sequential Read/Write 90 MB/s read / 70 MB/s write
Voltage 5V ±5%
Power Consumption Read 0.48W
Power Consumption Write 0.46W
S.M.A.R.T Support Yes
MTBF 1,000,000 Hours
Operating Temperature 0°C to 70°C
Shock 1500G
Width 69.85 mm
Height 9.5mm
Weight 72g