Corsair high performance DDR3 Dominator GT family gets official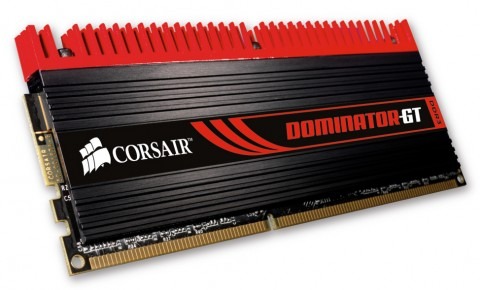 Corsair has today taken the wraps off its fastest DDR3 Dominator FT family designed to work for Intel Core i7-based processors. Announcement of the new Dominator GT features a bright racing red color scheme with company's patent's-pending Dual-path Heat exchange (DHX) technology high-end stick with remarkably low latencies (7-8-7) running at high frequency of 2000Mhz.
The next-generation DHX technology includes a heavy set of Aluminum heatspreaders and removable cooling fins to enable dual path RAM heat's dissipation from water to custom-designed thermoelectric cooling system. The modules, according to Corsair, can be actively cooled as much as 20 degrees below ambient temperature.
Additionally, PC enthusiasts will soon get their hands on some very limited quantities, hand-screened and hand-tuned overclock-friendly performance sticks, in both 3GB and 6GB kits. According to the press release, they will be available exclusively at company online store only.
remont, CA, February 5th, 2009 – Corsair®, a worldwide leader in high-performance computer and flash memory products, today announced the launch of the new Dominator GT line of ultra high-performance DDR3 memory modules for Intel® Core™ i7-based systems.

Sporting a new racing red color scheme and the next-generation of Corsair's patent-pending Dual-path Heat eXchange (DHX) technology, the new Dominator GT comes in 3-up 6GB kit, running at 2000MHz with latencies of 7-8-7.

"Corsair's Dominator line has long been the memory of choice for PC enthusiasts and high-end gamers," said Jim Carlton, VP of Marketing at Corsair. "The new Dominator GT family delivers even greater levels of performance, as well as enhanced cooling options, making it the perfect memory for anyone looking for the fastest possible performance from their Intel Core i7-based system."

The next-generation DHX technology includes a single-piece heat-sink and removable cooling fins. The removable fins allow multiple cooling options for the Dominator GT modules, including water cooling, as well as a custom-designed thermoelectric cooling system to actively cool the modules to as low as 20°C below ambient temperature for maximum overclockability.

In addition to the 1866C7 Dominator GT, Corsair will be offering very limited quantities of hand-screened, hand-tuned, extreme performance modules in both 3GB and 6GB kits. These kits are specifically designed to allow hardcore overclockers to push the limits of PC performance and are built with the fastest chips available. Because of the complexity in screening, manufacturing and testing, the Dominator GT family will be available only through the exclusive online GT Performance Shop at www.corsair.com, where Corsair will offer also offer the full range of cooling options for the Dominator GT family.