Corsair FB-DIMM kits hit 2GB and 4GB with new High-Density memory line for Mac Pros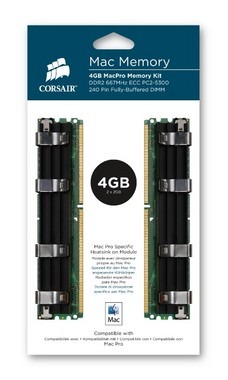 Both kits have two sticks each in them operating at 667MHz. You have your choice of 2x1GB sticks or 2x2GB sticks. The Memory is fully buffered and is 100% compatible with your Mac Pro and comes with a lifetime warranty.
So, all in one day Mac Pro users get a new graphics card option from NVIDIA, the best graphics card manufacturer there is on the planet, and a new memory upgrade option from Corsair, the best memory manufacturer on the planet. I'd say any Mac Pro user must be feeling extra important today, all things considered they are already using the best desktop computer there is on the planet.
Corsair also has a Mac notebook memory line as well, if you are a Mac Pro and a MacBook Pro owner looking to upgrade the RAM on both. These two kits however were tested at Apple's laboratories in California to make sure everything works and is up to snuff, and they do work, the price isn't bad either at $165 for the 2GB kit and $225 for the 4GB kit.
[via Corsair]