Corsair drops new 64GB Flash Survivor USB drive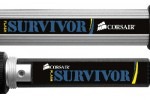 My first computer was a Tandy from Radio Shack that my parents bought for me one Christmas when I was five. The thing didn't even have a hard drive and the first computer I had with a hard drive has a few measly megabytes of storage and wouldn't even hold my IM app today. My point is that we are always needing more storage space and what we think is enough. If your old flash drive is full and you are in need of something with more space, Corsair has announced a new
USB drive that may be just the ticket.
Like the lower capacity flash drives before it, the 64GB version of the Survivor is ruggedized to survive the perils of your daily grind. It is encased in an aluminum tube sealed against water, dust, and dirt. The thing is sealed well enough to make it through the washer and the dryer without any problems.
The new 64GB drive is water resistant to a depth of 200 meters according to Corsair. The high capacity flash drive is compatible with Corsair's Flash Voyager Port combining the drive with disaster recovery feature of the NovaBACKUP software bundled with the Voyager Port device. The 64GB flash drive is available now.