Cork Turns Old Wine Bottles Into A Bluetooth Speaker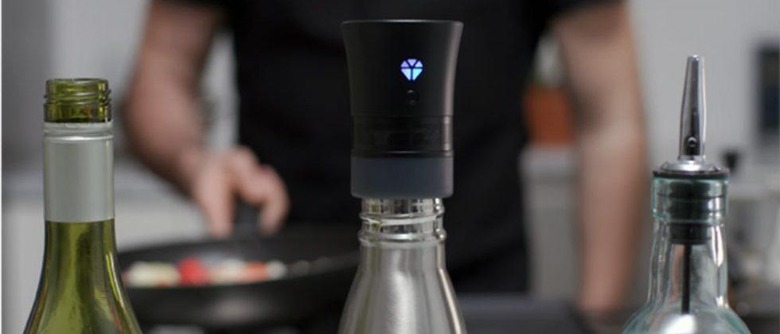 A new Kickstarter campaign is offering one of the more unique Bluetooth speakers we've seen: it is called Cork, and it attaches to the top of just about any bottle. When put in place on a bottle, Cork's tinny sounding audio becomes more robust and deep. The idea is that sans the bottle, Cork is very small and early to carry around. When it's time to listen to some music, the odds are high you've got some kind of bottle around to help out.
Cork is basically shaped like a giant bottle cork, hence the name. Measuring 46mm x 63mm with a weight of 76 grams, the speaker itself is small and light enough to slip into a pocket. You can listen to audio with it sans a bottle if you need to, but the audio won't be that great. Slip the speaker on top of a liquor or wine bottle, for example, and the audio suddenly becomes more full-bodied and appreciable.
Different bottom pieces allow the speaker to be attached to just about any bottle shape, whether its a regular wine bottle, your water bottle, or an empty coffee bottle. Different bottle sizes, shapes and materials all influence the resulting sound, meaning each audio session may sound a little different than last time.
The speaker is billed as a way to "upcycle" — that is, put something old and unwanted (an empty bottle) to good use. The speaker itself charges over micro USB and has a playback time of about 10 hours. Connectivity is done over Bluetooth, while a status LED shows whether the device is charging, charged, and playing.
The team behind Cork is seeking $20k on Kickstarter, where it has exceeded its goal with nearly a month remaining. An early bird model is offered at 32% off the planned MSRP at $43 USD. Shipping is expected to start in December and be available across the globe.
SOURCE: Kickstarter