CoPilot Live PND app for iPhone released in UK: one-off charge, no subscriptions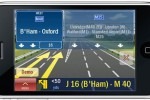 CoPilot have released their CoPilot Live navigation app for the iPhone, and unlike rival apps which require monthly subscriptions, it's available for a one-off cost of £25.99 ($44).  CoPilot Live includes landscape and portrait orientation modes, turn-by-turn directions, auto route-recalculation and 3D mapping, together with voice prompts.
This is no cut-down PND app either; there's lane-guidance, live-view signposts and a 5-day weather forecast, together with postcode search.  CoPilot have also added a friend-locator service, called CoPilot LiveLink, while real-time traffic data will be added later in the year.  All mapping is stored on-device rather than downloaded, so you can presumably use the app even without a 3G connection.
CoPilot Live is available in the UK now through the App Store on the iPhone 3G and iPhone 3GS, priced at £25.99.  Versions for other European countries and the US will follow shortly after.
Press Release:
CoPilot® Live™ Satellite Navigation arrives for iPhone

Award-winning CoPilot Live voice-guided navigation system approved for release on the iPhone App Store. Available to buy in UK immediately from £26

6th August 2009 – London, UK: ALK Technologies today announced that its CoPilot Live satellite navigation system has been approved for sale via the iPhone App Store and is now available in UK for Apple iPhone 3G and 3Gs for a one-off fee of £25.99.

Running in portrait or landscape display mode, CoPilot Live brings full featured turn-by-turn navigation to iPhones, complete with automatic route calculation, easy to follow 3D map displays and clear turn-by-turn voice directions.

Navigating to any destination is easy with CoPilot Live on an iPhone. Simply enter a house number, street or full UK postcode and it immediately works out the best route to get there. Detailed street maps are stored on the phone – not downloaded each trip, so there's no need for extra hardware or monthly fees.

On the road, iPhone users will enjoy sophisticated guidance features previously only found in the most expensive standalone or in-car systems, including lane assistance, realistic signpost displays and speed limit alerts. Complex motorway and major road exits are made simpler thanks to CoPilot ClearTurn which provides a more realistic display of junctions.

In addition to dependable guidance, CoPilot Live can use an iPhone's mobile Internet connection to bring additional real-time information to the driver. These 'Live' services include a 5-day weather forecast and a location-sharing feature called CoPilot LiveLink that allows users to check to location of friends on-screen or online. Real-time traffic information will be also available later in 2009 as an option.

Michael Kornhauser, Vice President and Managing Director of ALK Technologies' CoPilot Division said "We are delighted to bring CoPilot Live's full featured navigation experience to iPhone users via the App Store. With advanced features, fluid finger touch interface and useful Live services, CoPilot Live is the premium navigation app that the iPhone deserves."

CoPilot Live is initially available to buy from iTunes and iPhone App Store in UK, and will be available in USA and additional European countries to follow shortly.

Special offer pricing at launch is £25.99 for UK/Ireland maps, £59.99 for European maps. Pricing is for unlimited use, with no on-going fees or subscriptions.

For more information visit www.copilotlive.com/iphone