Coolpeds Briefcase Electric Scooter Is Your New Carry-On Bag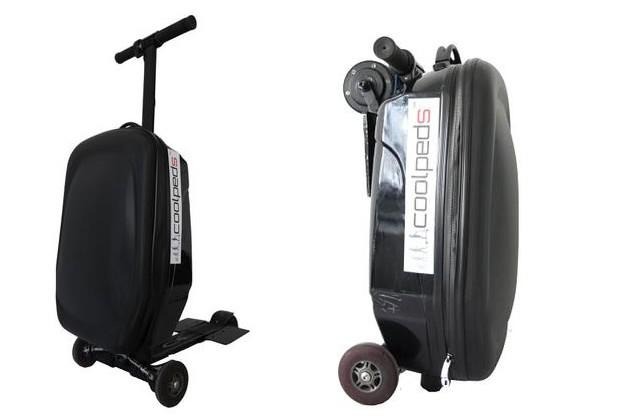 Most suitcases can double as an ottoman at best. The new Briefcase Electric Scooter by Coolpeds turns into an electric scooter to zip you around so you can catch your commute. Now, you don't have to drag your luggage around to catch your flight, you can hop on and ride it all the way to the terminal. Instead of a scooter with a small suitcase compartment, the Coolpeds Briefcase Electric Scooter is a full hard shell suitcase with an electric scooter that folds down from it.
It fits standard airline regulation as a carry-on suitcase. It should actually fit in the overhead compartment just as well as any other bag. The wheels and handle bars looks a bit obtrusive in the photos, but they shoudln't get in the way of in-flight storage.
It uses lithium ion batteries, and comes with its own compact charger. The whole thing weighs in at 17.4 lb (7.9 kg). It uses a brushless electric motor, so it can quietly zoom you across the terminal at speeds up to 12 mph (20 kph).
For the convenience, the scooter-briefcase combo might be worth with its $599 USD price tag. This scooter could help you get to your gate on time when you are rushing to catch the flight, saving you a full day of flying standby or having to by an entirely new plane ticket in an emergency. If you are eco-minded, Coolpeds has a special version with solar panels attached to the cover for $699 USD.
Source: Coolpeds
Via: Gizmag