CoolIT Domino plug & play $79 water-cooling kit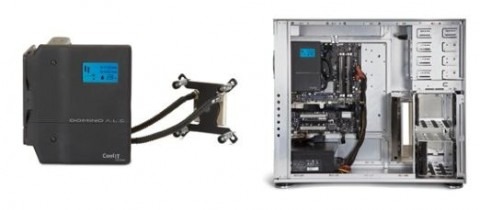 CoolIT Systems have announced a low-cost water-cooling setup, promising plug & play installation for just $79.  The Domino Advanced Liquid Cooling (ALC) is compatible with both Intel and AMD processors including Intel's next-gen Nehalem-based Core i7, is "whisper quiet" and has an integrated LCD display with audio alerts should something go wrong.
Installation is apparently simple, and merely requires a case that can accommodate a 120mm fan. It's also maintenance-free, for over 50,000 hours of use, and has a number of preset modes that cater to different usage types. For instance, intensive gamers can prioritise cooling over noise for overclocking, with the Domino's controller auto-regulating accordingly.
Domino requires at most 8W of power and, according to CoolIT, places up to 70-percent less weight on the motherboard than an equivalent fan and heatsink setup.  The system recently won a CES Innovations award; we're waiting to hear back regarding availability.