Cooler Master Limited Edition Black Label Systems gets official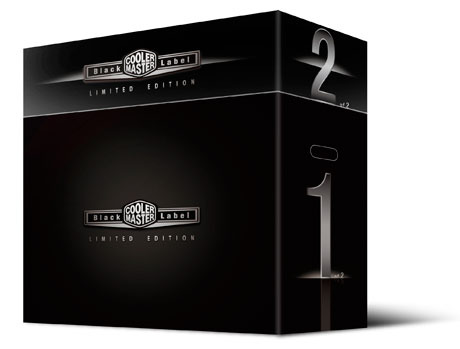 Cooler master lets loose of a special edition Cosmos CPU Cooler last week, that was just a teaser; the company has revealed the full plan of a complete Black Label Limited Edition package. With Worldwide availability of only 500 sets intended for limited production, the Black Label will include a pure black Cosmos chassis, a black Hyper Z600 CPU cooler and a black PSU power supply. Each chassis gets a unique laser-etching identity serialized from 1 to 500.
The owner of this limited edition sets will entitle to a membership of the Black Label Lounge, enjoys exclusive privileges like VIP event invitations, supports, news and interactions with club members. The Black Label Limited Edition set has a recommended price tag of $599 or 499 Euro.
Taipei, Taiwan – December 11th, 2008 – Cooler Master introduces the Black Label Limited Edition with worldwide availability of 500 individually numbered sets. This luxiourious collection brings together the company's award-winning computing chassis, cooler and power supply, with an added touch of sophistcated black appearance plus feature enchancements: Cosmos Black Label, Hyper Z600 Black Label and a powerful PSU unit. MSRP 599USD or 499EUR. Official site: blacklabel.coolermaster.com

The 500 Club

Black Label Limited Edition customers will receive private membership, giving them access to our Black Label Lounge. Members will enjoy exclusive benefits such as: priority purchase privileges, VIP event invitations, interaction with fellow club members and more.

Pure Black Design

Designers at Cooler Master have ensured that pure black means every detail is taken into account, with a full black exterior and interior. This stunning pure black is a first for Cooler Master which shows the excellence in craftsmanship the company has built its reputation on.

Striving for Perfection

Subtle improvements have made this an elite collection. Cosmos Black Label has a unique tinted side panel and its upgraded cooling capability further improves on reliability and performance. Hyper Z600 Black Label with the all new black appearance is equipped with improved PWM fan and airflow cover for unsurpassed cooling.