Continuum on phones to require Office 365 sub for editing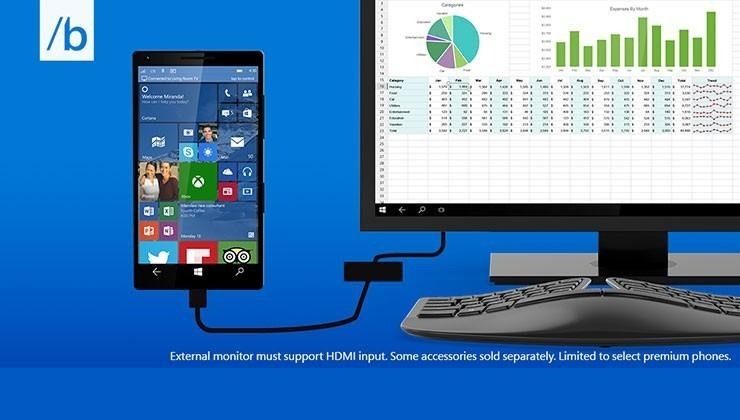 Excited, or at least curious, for what might be one of the winning points for Windows 10 Mobile? Better rein in that enthusiasm and read the fine print first. In a post sharing the wonderful updates to Office 365 and Office apps, Microsoft let slip a detail that hasn't been mentioned before or at least never given much attention. Continuum, which would "expand" a mobile app to desktop when an external display is connected, will require a paid Office 365 subscription to edit files starting April next year.
Continuum is probably the strongest point of Windows 10, showcasing the promise of its Universal Windows Platform. A compatible app on a compatible smartphone would be resized and reshape to a desktop format when connected to a an external monitor, a literal PC in your pocket experience. Microsoft is particularly selling this idea to emerging countries where almost everyone has a smartphone but not everyone has a PC.
Almost ironically then that Microsoft would somewhat gate that with an Office 365 subscription. To be precise, users will be able to view documents on Office apps like Word, Excel, and Power Point normally, both on the phone and on a bigger display. But if you want to actually edit those files, which we gander will be majority of the time, you will need an Office 365 subscription. That one ranges from $10 a month for a Home edition to $12.50 per user per month on the highest business tier.
To be fair, all of Continuum's functionality will be available for free, no subscription required, until March 31, 2016. But considering Microsoft is delaying the rollout of Windows 10 Mobile to early next year, that leaves very little time for most users to try it out. Unless they have a Lumia 950 or Lumia 950 XL.
On the one hand, it isn't really surprising that Microsoft would have this kind of setup. It reflects the same system it has for its other Office apps (free and full on mobile, gated on notebooks and desktops). On the other hand, it could also make Windows 10 Mobile less interesting and enticing. Considering how Microsoft desperately needs to make its case for smartphones, this might be one bad decision to make.
SOURCE: Microsoft