Continental first to receive Nevada automated driving testing license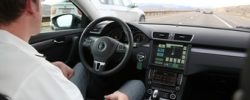 Continental, an international automotive supplier, became the first supplier to receive an Autonomous Vehicle Testing License. With this license, Continental will be able to test its automated driving vehicles on the state's public roads. The license was issued after Continental provided automatic driving demonstrations in Nevada.
The car that Continental is testing is designed so that it can be easily spotted by those around it. One of its distinguishing marks is a red license plate with an infinity symbol on it, which is reserved for the public testing of automated driving vehicles. By testing on public roads, the automated cars can be taken to the next level.
Continental's Executive Board Chairman Dr. Elmar Degenhart offered this statement. "At Continental, we continue to invest in research and development for next generation technologies – such as our highly automated vehicle – that will drive us toward a safer, more efficient and more comfortable future ... We will be able to develop the first applications for highly and ultimately fully automated driving, even at higher speeds and in more complex driving situations, ready for production by 2020 or 2025."
The car in question has a steering wheel and all the trimmings, and is designed so that a driver is in place keeping an eye on the car's driving – hence, if the car starts to go wonky, the driver can correct it. The vehicle is equipped with four sensors split between the front and back of the card, as well as a radar and stereo camera. Using these, the car can keep an eye on its surroundings and successfully drive itself around. Thus far, it has clocked over 15,000 miles on the (non-public) road.
[via Continental]