In Consumer Reports annual reliability survey, it would appear that US-based brands are moving downward while Asian automakers take the cake. These reliability rankings cover a total of 29 brands, this year, and all domestic (USA) brands rank in the bottom half of the list. Volvo ranks last, while Cadillac takes the 28 spot as the lowest-ranked domestic brand.
Next on the list – third worst – is Tesla. This survey works like so: "The latest Consumer Reports Annual Auto Reliability Survey, gathered information fromConsumer Reports members who collectively owned or leased more than 500,000 vehicles, from model years 2000 to 2018, covering more than 300 models."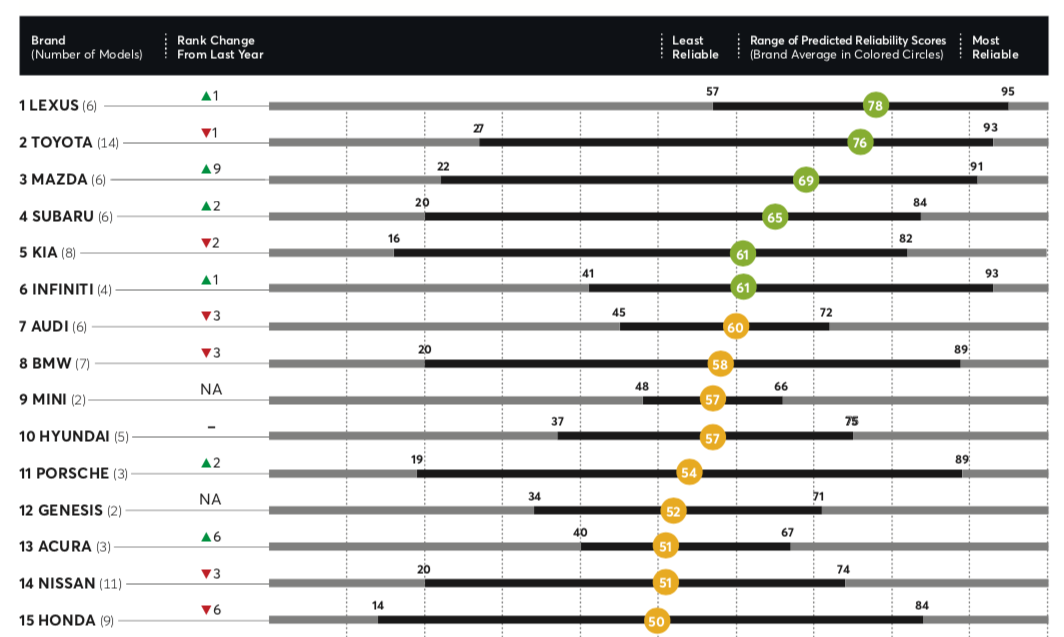 Above you'll see the top of the list. Below you'll see the bottom of the list. This list doesn't necessarily mean that one brand is definitively better than another – but in this metric, there's certainly a top and a bottom. Be glad if your vehicle comes from a brand in the green.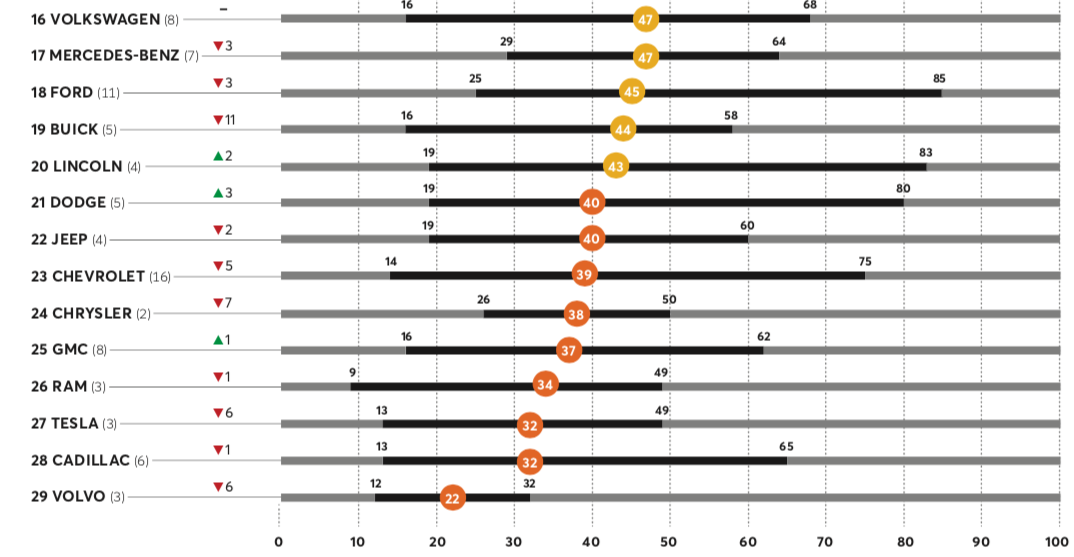 In addition to ranking 29 brands, the company organizes vehicles by overall reliability. In the top 10 we find vehicles from Lexus, Toyota, and Mazda – and a few others. Have a peek and see if you own any of the top 10 most reliable cars for this year's reliability survey:
• Lexus GX
• Toyota Prius C
• Toyota Prius Prime
• Mazda MX-5 Miata
• Toyota Corolla
• Lexus NX
• Toyota Prius
• Honda Fit
• Kia Sedona
• Toyota Highlander
Next is a least-reliable list of vehicles for this 2018 survey. According to Consumer Reports, the list below represents the models with "the greatest risks of problems" here in the year 2018. If you're an automaker, you don't want your vehicle on this list.
• Honda Odyssey
• Volkswagen Atlas
• Buick Enclave
• Chevrolet Silverado 2500 HD
• Kia Cadenza
• Chevrolet Traverse
• Honda Clarity
• Cadillac ATS
• Tesla Model X
• RAM 3500
According to Consumer Reports, "The survey reinforces our recommendation that consumers should avoid brand-new or redesigned models and wait a year or two until the automaker has had the chance to work out the kinks and headaches that often arise." Just like your Uncle Steve always told you.