Concept turns the page on traditional remote design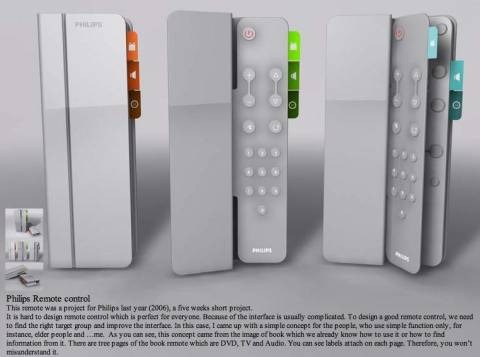 A common problem with concept designs is that their creators go overboard trying to fit in every fashionable doo-dad and spangly gadget, ending up with something that looks like an earthquake at an Intel factory.  Far more interesting, to my mind, are the designs that attempt to tackle one specific issue or demographic; the hardest of those, perhaps, is the non-tech-savvy for whom wrestling with a DVD player can prompt horrible tears.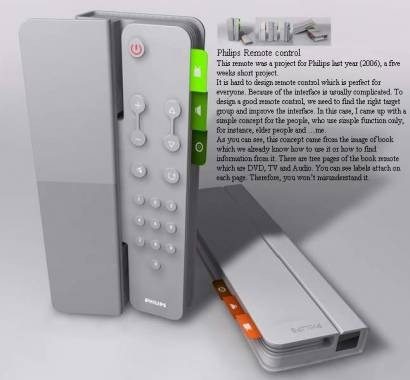 Twenty-eight year old designer Chen Karlsson chose just that demographic for his Philips remote control concept.  Like many he began with a well-established paradigm that people would be familiar with – in this case a book – and organised functionality according to "page".  Therefore TV channels and volume have a page of their own, as do DVD functions, and so on.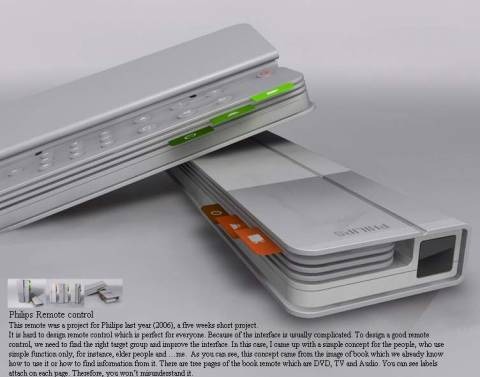 Each page has a reference tab to aid quick navigation, and the interesting thing is that none of the elements of the concept are beyond the state of current electronics: pages could be made either from plastic or a fabric keyboard such as Eleksen's.  It's unlikely we'll see such a real product like this at any point in the future, but something tells me that Chen is a designer to keep an eye on...