comScore: Samsung and Apple syphon mobile market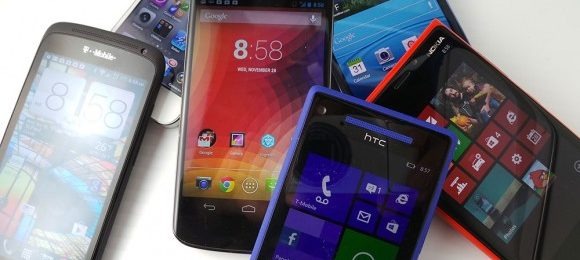 There's no arguing that the mobile market is here for the duration and that it's Android and Apple's iOS that are dominating the field – this three-month-average comScore report shows that much clearly. What's not quite as clear is how two major manufacturers – Apple and Samsung – are swallowing up the market while LG, Motorola, and HTC (the other top three manufacturers in the market today) are dropping down. Oddly enough, it's not more than a point difference between months that've changed this month other than Apple – they being the only manufacturer to gain more than a single point of the % of mobile subscribers.
The charts this month show Samsung up top with an absolutely dominating 26.3% of the OEM market share, that being part of this study that's a 3 month average ending in October 2012. The chart you're seeing compares to a 3-month average ending in July of 2012, the point changes being compared therein. Also of note is the fact that this study is done on US Mobile Subscribers working not just with smartphones, but feature phones as well, and all of them 13 years of age or older. Not that there's a gigantic amount of 8 year old smartphone users out there, but still – keep that in mind.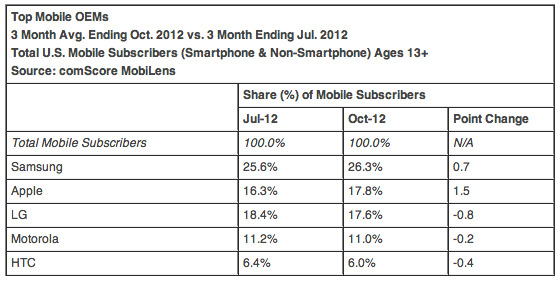 The Samsung share here went up between periods just under 1 percentage point at 0.7 while Apple went up 1.5 points. Apple's share here sits at 17.8% and it's quite likely that their percentage went up largely because of the launch of the iPhone 5, but it's not entirely clear if those questioned were asked if they'd actually had their iPhone in-hand when asked – that could have a small but significant effect on the outcome of this test because of the amount of people that ordered the iPhone 5 at launch and had a brief waiting period in the three months this study takes place in (if they didn't have an iPhone before now, that is).
Meanwhile the LG, Motorola, and HTC shares have been going down, with LG in the lead for loss as well as market share at 17.6% after a loss of -0.8 points. Motorola's share this period sits at11% and HTC exists at the end of the list with 6%. Not included due to what we must assume is extremely low numbers is Nokia and RIM with BlackBerry.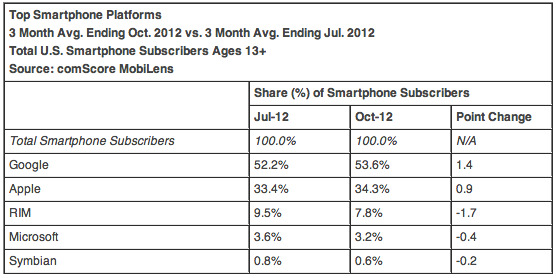 Interestingly it does seem that RIM does exist in a low bot not nearly so insignificant place in the Top Smartphone Platforms list with 9.5% of the market to their name. Apple and Google (with Android) sit up top with a total 87.9% of the market to themselves, with 53.6% of the market belonging to Google and 34.3% of the market belonging to Apple. Meanwhile Microsoft is in 4th place with a tiny 3.2% of the market and Symbian (believe it or not) still exists on the list with a fabulous 0.6% of the market.
In the Smartphone Platform Market Share list it's also Apple and Google that are devouring the market bit by bit with Google going up by 1.4 points and Apple heading upward by 0.9 points. Meanwhile RIM took the biggest dive with a loss of 1.7 points and Microsoft and Symbian slipped by 0.4 points and 0.2 points respectively.
[via ComScore]