Of the estimated 182 million smartphone users in the United States, just over half use Android, according to comScore. The analytics firm just released their year-end report, and it shows just over 53% of us are using Android, while 41.6% are using iOS. Microsoft still holds a 3.4% market share with Windows, and BlackBerry fell hard, dropping half a point to capture just 1.8% of the overall smartphone market. In the OEM market share race, things are getting interesting, but are still dominated by Samsung and Apple.

As they only produce iPhones for use with iOS, Apple's market share always directly correlates to their operating system market share, so 41.6%. That's 75.7 million iPhone users stateside.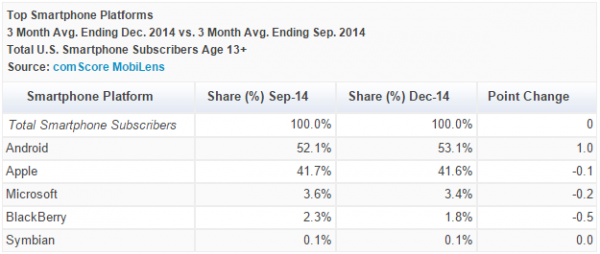 Samsung climbed a bit over their last comScore appearance, stopping in with 29.7% of the smartphone market in the US. That's a 0.7% uptick from last time, and likely helped by the 4% overall smartphone market increase comScore is reporting. LG also gained, rising 1.1% to an even 8% of the overall US smartphone market.
Motorola fell slightly, and now commands a 5.2% market share in the United States. The largest drop in the top five was HTC, which gave up exactly what Samsung gained — 0.7%. According to the report, HTC now has a 3.7% market share in the United States.
These figures represent the last three months of 2014, and don't provide a clear picture of what the holiday shopping season might have done for these OEMs and their platforms.
Source: comScore