comScore: Android still way ahead, but Apple now grabs 10% US market share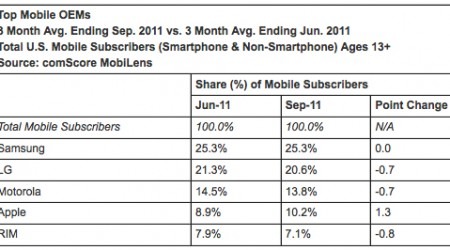 Research firm comScore has just released a US smartphone market report for the period ending in September 2011, revealing as expected that Android is still way ahead of the pack, but that Apple continues to grow steadily. In fact, one in ten mobile subscribers in the US now own an iPhone and this is even before Apple released the iPhone 4S.
Among the top five smartphone manufacturers, Apple ranks fourth with 10.2 percent US market share and has continued to experience growth over the last several months, with a 1.3 point change since June of this year. Rival Samsung takes the lead but its 25.3 percent market share has plateaued while second place LG now at 20.6 percent continues to slide along with third place Motorola at 13.8 percent and last place RIM at 7.1 percent.
When it comes to smartphone platforms, Google's Android continues to surge, now leading at 44.8 percent market share, a 4.6 point change over the last 3-month period. Apple follows in second at 27.4 percent with steady growth and 0.8 point change during the same period. RIM, now at 18.9 percent, continues to experience the most loss in market share with a negative 4.6 point change, while Microsoft at 56 percent and Symbian at 1.8 percent round out the top five, each with a negative 0.2 point change.
With the iPhone 4S having launched in October and making record sales on its opening weekend, it will be interesting to see how the data shifts for the next comScore report. Despite not having a cosmetic upgrade, the iPhone 4S is still high in demand for its updated hardware internals, including the much faster A5 dual-core processor and the new 8-megapixel camera. The new Siri intelligent assistant feature is also exclusive to the device.
However, Google also has its new Android 4.0 Ice Cream Sandwich devices launching in November, kicking off with the Samsung Galaxy Nexus smartphone. Other Android 4.0 devices should follow in the weeks after, although many may not ship until early 2012.