ComScore: Android and iOS up, RIM and Microsoft down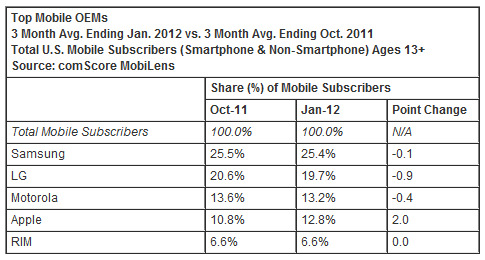 It's that time of the month once again: the latest ComScore data is out for the period ending in January 2012. Yet again 30,000 US mobile subscribers were surveyed in order to put together data showing the movers and shakers. And once again, the results aren't exactly surprising.
In terms of top mobile OEMs, Samsung reigns supreme with 25.4% of the market, only down 0.1% on last quarter. LG sits at number two thanks to featurephones, securing 19.7%, down almost a full percentage point. Apple meanwhile come in at number four, up to 12.8% from 10.8%, no doubt thanks to that disappointing iPhone 4S.
In terms of platform market share, Android and iOS still hold first and second place, with both making more inroads. Android is up 2.3%, holding almost half the total market share at 48.6%. iOS meanwhile jumps to 29.5%.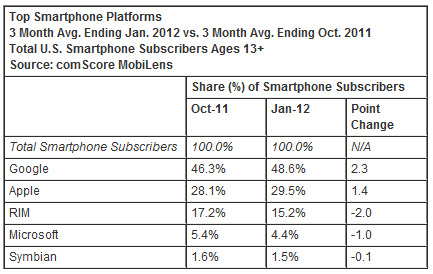 RIM and Microsoft continue to lose ground to Android and iOS. RIM is down a full two percentage, falling to 15.2% overall, and Microsoft still seems to tumbling down despite its large investment in Windows Phone. They're down 1%, and now sit with just 4.4% market share overall.
It will be interesting to see if Microsoft in particular can turn it around with the recent announcement of Nokia handsets destined for the US, like the Nokia Lumia 900, especially with the rumoured price of just $100 on AT&T. RIM on the other hand won't be shipping any BlackBerry 10 devices until later in the year.