Compal Trinity APU reference design surfaces looking thin and sexy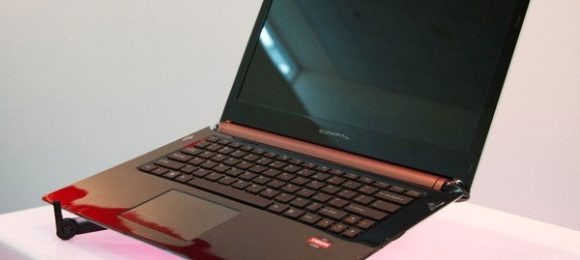 AMD held a financial analyst day this week, and it had a slick and sexy little notebook in a demo area for the geeks to check out while they were there. The thin, glossy little notebook packs in the new AMD Trinity APU the little beastie looks as thin as a MacBook Air in photos. According to Engadget, the reference design unit on display is one of the several proof of concepts that are being used to show off the powerful and thin machines packing the new Trinity APU.
The prototype we see here is running a lower voltage range of Trinity that should be either the 17-watt or the 25-watt version of the APU. The little display machine is only 18 mm thick and is clearly aiming at Intel ultrabook shoppers. Granted this is simply proof of concept, so shipping versions could change significantly. However, Engadget reports that the machine was very flimsy and has a significant amount of flex in its chassis.
The good news with these designs from AMD is that its targeting a price point much lower than that of the ultrabook and are expected to sell in the $500 to $600 range. At roughly half of some of the ultrabook's price tag, if the performance is on par, these machines should prove to be popular. The notebook is thin, but it still has all the connectivity we expect with dual USB 3.0 ports, HDMI out, and a mini-DisplayPort out, along with the expected audio jacks, Ethernet, and power ports.
[via Engadget]