Compal, Mitac & more have CULV ultraportables planned for 2009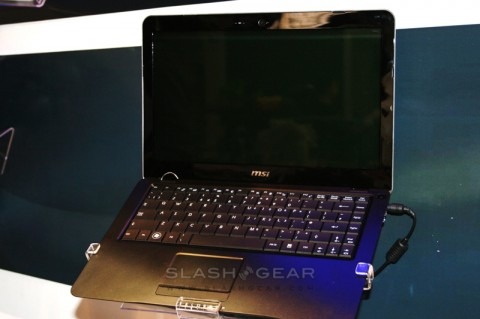 It looks like Intel's CULV wish may be coming true, as six whitebox manufacturers in Taiwan are apparently ramping up for production of ultraportable notebooks based on the platform.  Industry sources have fingered Pegatron, Clevo, MSI, Compal, ECS and Mitac as all preparing 13- to 14-inch CULV notebooks, with the first shipments expected in June 2009.
MSI's model is expected to slot into the X-Slim X340 range and is codenamed the MS-135X.  It has a 13.4-inch display and uses the Celeron 723 processor and GS40 chipset; integrated WiMAX will be an option, and shipments are expected in June.  Clevo will also use the Celeron 723 and GS40 in their two models: the W8x0V has a choice of 13.3-inch or 14-inch display, while the R130x has a 13.3-inch panel, and production will begin in August and June, respectively.
Meanwhile ECS will use the Celeron 723/GS40 pairing for its 13.3-inch ECS 130 model, hitting mass production in August, and the 1.6Ghz Core 2 Duo SU9600 and GS45 chipset in their T30, production of which kicks off in June.  Compal will have their own 13.3-inch ultraportable, codenamed NTUCO, about which little is known aside from the production schedule, which begins in September.
Pegatron have already demonstrated their CULV notebooks, the 13.3-inch DC3e, RX8 and DC2, as have Mitac with their 13.3-inch 9213 and 12-inch 9212 (which both use the SU9400 CPU and GS45 chipset).  However Mitac will follow that in June with the 13.3-inch 9223, which has the SU2700 processor and GS40 chipset.