Como Audio Solo and Duetto streaming audio systems hit Kickstarter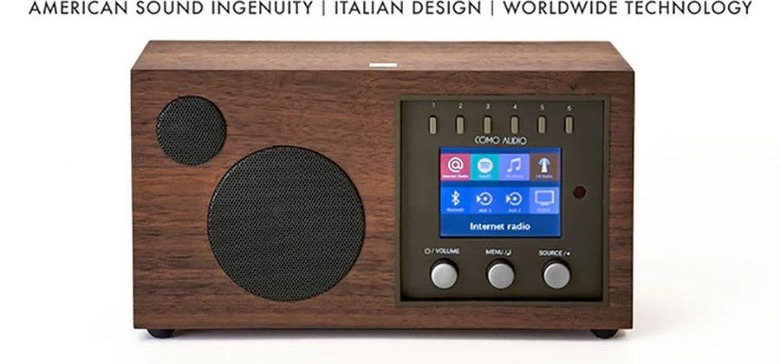 Fans of hi-fi streaming audio have a new media player to check out that aims to deliver American sound ingenuity combined with Italian design. The streaming audio devices are called the Solo and Duetto. The Solo is a compact box made of hardwood that doesn't need a smartphone or tablet to stream your favorite music.
Solo is a compact tablet top device that measures 5-inches H x 9.5-inches W x 4.7-inches D. Audi fans who want more power can get the Duetto that has a pair of speakers on each side of the device. Duetto offers the same features as the Solo, but with true stereo sound. Duetto measures 5.3-inches H x 14.5-inches W x 5.6-inches D.
A wide range of listening sources are supported with Spotify, WiFi, FM radio, Chromecast, and Bluetooth devices can be synced for streaming with other options available. The device also supports internet radio ad has an alarm clock function with two alarms supported at a time. Power is from a pair of 30W RMS amps. The speaker pairs include a 3-inch woofer with a four-layer voice coil and a 0.75-inch dome tweeter. The Duetto has two of each speakers and both versions have multi-room capability.
Both the Solo and Duetto come in gloss white or natural walnut finishes. The project is on Kickstarter now seeking $50,000 and it has raised over $53,000 as of writing with 32 days to go. The Kickstarter Edition Solo sells for $200 with shipping in October 2016. The Duetto sells for $300 or more with shipping in October. Both of the Kickstarter editions are in the walnut cabinets. First Edition Duettos that can be had in white or walnut will sell for $350.
SOURCE: Kickstarter