Commercial for the Touchwood SH-08C from NTT DoCoMo is cooler than the phone it advertises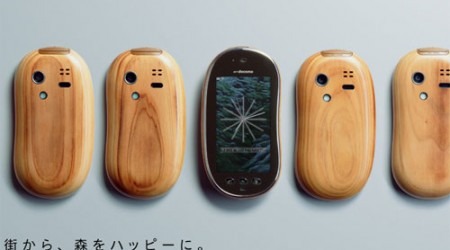 The only time I ever watch commercials and actually look forward to them is during the Super Bowl. I like the commercials that are funny or otherwise interesting for one reason or another. A Japanese firm called Drill inc has shot what maybe the coolest commercial ever for a mobile phone to sell the glory of wood.
The commercial was for the NTT DoCoMo SH-08C smartphone that has a kidney shaped wooden case. The phone looks cool and since the specs are on a photo in Japanese, I am not sure what it's all about. The phone isn't the cool part here though, it's the commercial.
The ad agency went to the woods and built a giant xylophone that they set up running down hill. A wooden ball was placed at the top of the xylophone ramp and then pushed down. As it plunks down the hill it plays Bach's Cantata 147 also known as "Jesu, Joy of Man's Desire." The director of the commercial says that the music is completely made with just the ball and the wooden xylophone planks, though some levels were adjusted. Check out the video below to see the commercial.
[via CNET]