Comixology Unlimited: now there's a "Netflix for Comics" too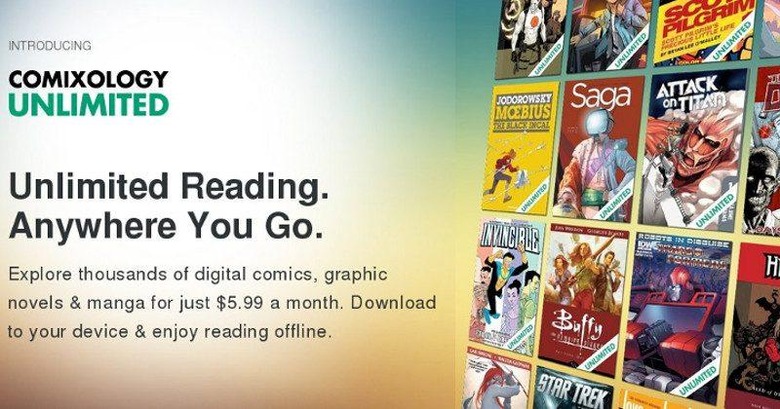 It's been a while since we've heard anything major from Comixology, the industry's biggest distributor of digital comics, after it got swept up by Amazon. Sure, business is booming these days, especially thanks to non-stop servings of live action film adaptations of comic book titles and events. Today, however, Comixology has launched something major indeed. Taking a cue from Netflix, which has become synonymous with digital content subscription, it has unveiled Comixology Unlimited, letting both existing fans and curious readers a chance to dip their toes in the world of sequential art for only $5.99 a month.
Comixology CEO David Steinberger explains the rationale for this new business model. While the company wants to turn everyone in the world into a comics fan, they found that traditional mode of acquiring comics isn't exactly conducive for those who want to take a cursory look rather than plunge head on. Titles on Comixology have prices ranging from $0.99 to $12, depending on many factors like age, popularity, publisher, volume, or discount. A monthly $5.99 fee is perhaps an easier pill to swallow for those just beginning their discovery.
Comixology Unlimited offers titles coming from publishers like Image Comics, Dark Horse Comics, IDW Publishing, BOOM! Studios, Oni Press, Archie Comics, Valiant Entertainment, Fantagraphics Books, including mangas. Noticeably missing are DC and Marvel, the latter of which has its own Marvel Unlimited subscription program. That last bit might disappoint fans of the two comics publishers, but that doesn't make Comixology Unlimited's catalog any less valuable, especially with titles like "Saga", "The Walking Dead", "Hellboy", "Buffy the Vampire Slayer", "Transformers", "Attack on Titan", and more. It could very well be an opportunity for fans and the curious alike to discover an equally, sometimes even more, interesting world beyond DC and Marvel.
Comixology Unlimited doesn't just follow Netflix's strategy in terms of subscriptions. Like Netlfix, titles will be put in and taken out at intervals. So on the one hand, you can take your time perusing through the thousands of titles available. But on the other hand, there is also an element of time and urgency.
Comixology Unlimited offers a free 30-day trial for those interested in seeing if the subscription model is a better fit for them. Comixology's regular shop isn't going to be affected by this new business. For now, Unlimited is limited to the US, with more countries promised to follow.
VIA: Comic Book Resources