ColorWare unveils custom elite paint finish Sennheiser mics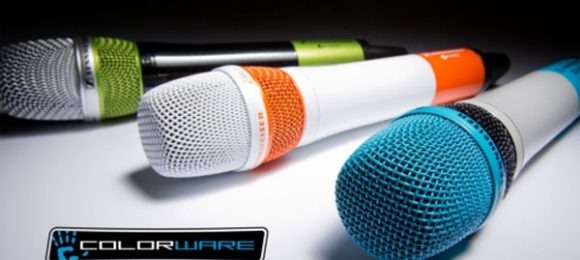 ColorWare has been putting color on gadgets and other devices for a long time now. Typically, its coloring services are often seen on smartphones and computers. The company is now offering colorful and custom created microphones from Sennheiser. You can get your own Sennheiser ew 135 G3 vocal set in whatever colors you choose.
The set includes the professional grade wireless transmitter and receiver, with the E-935 wired mic available in custom colors as well. ColorWare offers 46 different colors and multiple customizable elements on each microphone. The company disassembles the microphones by hand and then hand paints them in custom colors. The mics are buffed, polished, and then reassembled after painting.
The company promises that the mics will perform just as they did before the custom color process. The ew 135 G3 wireless microphone vocal set with custom coloring is $750. The E-935 wired microphone with custom coloring is $350. The coloring process certainly adds a premium to the price.