Colorware Chrome Custom Studio Dr. Dre Beats Headphones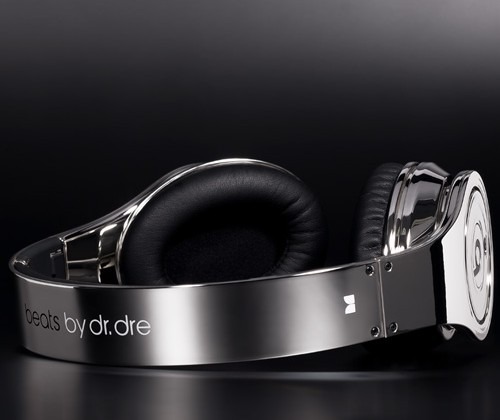 If you really want to go all out when enjoying your music, check these out. Colorware has come out with a limited edition finish for Beats by Dr. Dre headphones: Chrome. These are not your everyday headphones, and there are being produced in a limited run. Each one will be uniquely engraved. They are powered, noise-cancelling headphones with extra-large 40mm drivers.
There will only be 50 sets of headphones produced, each with a chrome finish. They will be numbered with the # of 50, and also with "Colorware Collection" on the side. There will also be "Beats by dr dre" engraved on the top of the headband.
The Studio headphones by themselves sell for $349.95, but if you agree that "You deserve to have the best, and nothing says "elite" better than this", you will not settle for that. Oh no. You will plunk down your $1,000 for these custom, limited edition 'phones.
Specs:
Powered Isolation technology actively reduces external noise for crystal-clear sound; advanced speaker design
Extra-large 40mm drivers deliver rich transient response
Powered digital amplification provides wide, natural sound with deep bass
Headband with hinged ear cups and ultrasoft, breathable plush ear pads is comfortable to wear
Monster Quadripole headphone cable for reduced interference and expressive sound
Includes Monster iSoniTalk headphone cable with integrated microphone and answer button for use with iPhone, Blackberry and other music-enabled cell phones
Push to Listen mute button lets you talk on your cell phone without removing the headphones
Folding design for go-anywhere portability
Includes 2 AAA batteries, antimicrobial cleaning cloth, iSoniTalk cell phone cable, 1/8"-to-1/4" headphone adapter and protective case
Check out more photos in the gallery: