Collapsing glasses have built-in case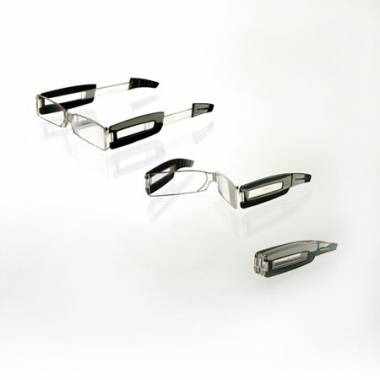 Talking to an optician friend of mine the other day, I was surprised to hear that many people are actually damaging their eyes through wearing prescription glasses.  It turns out that you really should listen to your eye-specialist when they say "you shouldn't need to wear them all the time" about your sexy new designer frames; it encourages the eyes to weaken, apparently, and you become more dependent on corrective optics.  Thing is, as anyone who has tried to transport specs around, you're in constant fear of the expensive lenses getting scratched.  That's the problem RKS Design tried to solve.
Their solution, Optigami, is a set of glasses that folds at the bridge and has sliding arms; that way, they can shrink down into a protected case ideal to drop into your bag or top pocket.  The style might not be to everyone's taste, but for those people who only need glasses for reading, say, or watching a film, this might be a far less cumbersome way to transport them than the traditional hard-case.
So far it seems to be just a concept design, but I imagine it won't be long before something similar hits the stores.